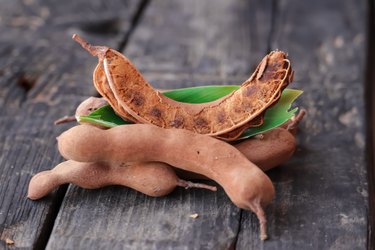 The slow-growing tamarind tree (Tamarindus indica), hardy in U.S. Department of Agriculture plant hardiness zones 10 through 11, produces an edible paste in its fruits that is reminiscent of apricots, dates and citrus. Growing tamarind from seed is relatively easy as long as you pretreat the seeds before planting. While these tropical trees can only be grown in mild, frost-free winter climates, you can keep them indoors as a large houseplant or bonsai.
The tamarind is native to Africa and Madagascar and grows wild in India. It is also grown in Southeast Asia, Australia and South America. In general, it can be grown outdoors in southern Florida, southern Arizona and the warmest coastal regions in California. Mature trees can tolerate a very short time in frosty temperatures, but cold temperatures adversely affect young trees as well as the flowers and fruits.
This tropical tree grows up to 90 feet tall and nearly as wide under ideal conditions in frost-free climates. A member of the Fabaceae family, or pea family, it features evergreen frondlike 1/3- to 3/4-inch-long leaflets arranged on 2- to 5-inch-long leaf blades.
The small yellow and red flowers appear on drooping clusters in spring, producing plump, 7-inch-long cinnamon-brown velvety pods. The sticky paste that surrounds two to three seeds inside the pods is used in curries, soft drinks and Worcestershire sauce. When grown from seed, a tamarind tree may not flower and produce its fruits until it is six or more years old.
Growing Tamarind From Seed
The safest methods for home gardeners involve boiling water and/or extended soaking to break through the hard shells that surround the embryos. When you prepare the seeds for germination, put on gloves and safety goggles to protect your hands and eyes from splashes of hot water.
Bring water to a boil in a tea kettle. Put the seeds in a mug and fill it one-half full with boiling water. Set the mug aside where it is out of reach of children and pets and allow the seeds to soak for at least one hour. Alternatively, put the seeds in a jar and fill with lukewarm tap water. Allow the seeds to soak for 12 to 24 hours before planting.
Plant the seeds 1/2 inch deep in moistened seed-starting mix. Place the seed-starting tray or pots on a seed-heat mat and then cover it with a plastic cover or plastic wrap. Mist the mix as needed to keep it moist but not waterlogged. Seeds pretreated with boiling water germinate in approximately 12 days, while seeds soaked for 12 hours germinate in 19 days.
Caring for a Tamarind Tree
When the seedlings appear, remove the covering and place them in bright light, preferably sunlight or under a grow light that provides 12 or more hours of light daily. As the seedlings grow larger, transplant them to larger containers to accommodate the root systems. If growing as a bonsai, plant in a shallow ceramic bonsai container. Use a well-drained potting mix or make your own using equal parts coconut coir, compost and coarse sand.
Keep the plant moist until it is established in the container and then reduce watering frequency until you're only applying water when the top 1 to 2 inches of soil are dry. Fertilize every two to three months with a 6-6-3 fertilizer. Add a 2- to 3-inch layer of compost or mulch over the soil but pull it 3 to 4 inches away from the tree's trunk.
Put on your protective gear, including gloves and safety goggles, and sterilize your pruning tools by dipping the blades in rubbing alcohol or Lysol. Prune the tree as needed to control its size and growth. Remove broken or dead branches. When growing as a bonsai, you can also carefully prune the roots to keep the tree small as the trunk widens.