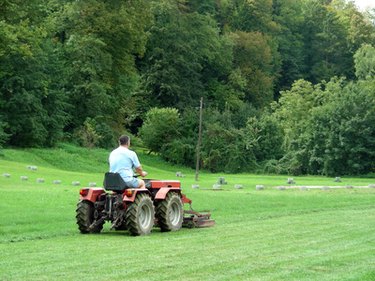 Massey-Harris was the name given to all tractors built by the former Massey Manufacturing Company as of 1891. After 1953, when Massey merged with Harry Ferguson, the company became Massey-Ferguson. If it is a recent model, chances are that you can still identify the model number on your tractor. If your tractor is older, the model number could have rubbed off or worn off over time. In this case, you will need to do a little more research.
Step 1
Locate the model or serial number stamped on a plate on the left or right side of the main frame. It is also stamped on top of the transmission housing.
Step 2
Look through your user manual that came with your tractor to see if the model number is printed on the cover, the first page or the last page.
Step 3
Take a picture of the tractor. Show the picture to a Massey tractor dealer. He will be able to identify the tractor and give you its specific model number. Alternately, compare the picture with the ones in a book about Massey tractors, such as "Big Book of Massey Tractors," by Robert Pripps or the "Encyclopedia of America Farm Tractors," by C.H. Wendel.
Tip
It is best to have a picture of the tractor on hand than to try to describe it.
Warning
Tractors that are rusty or having missing parts may be harder to identify.