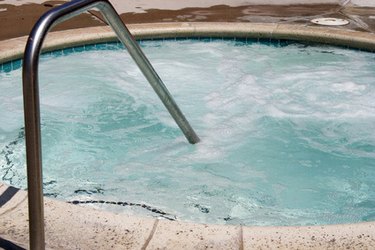 The Pentair Easytouch 8 Wireless system is designed to allow you to access functions of a spa by remote control. Upon setting up your device, you may begin to experience problems with the power and the remote control functions. Perform your own maintenance by following a few simple steps, and you will save yourself frustration, time, and money. You can examine the power connection to your LX Control Center (your spa's control unit) and remedy problems with your remote not controlling all functions of the spa.
Power Problems
Step 1
Inspect the LX Control Center (the spa's control box) to confirm that it's receiving power, if the remote's power light isn't illuminating when buttons are pushed.
Step 2
Walk over to the area where the LX Control Center was installed and push buttons on the digital interface (such as "Spa" and "Aux1") to ensure that the system is responding and operating properly when used manually.
Step 3
Inspect the power cord going into the control center for damage, such as dents, tears, or cuts. If the cord is damaged, replace it with a new one.
Step 4
Turn the remote control over and slide the battery chamber cover off with your fingers.
Step 5
Remove the battery to reset the connection and then slide the battery (3-volt lithium battery) back under the retainer clip.
Step 6
Slip the battery cover back onto the remote back, until it clicks into place. If the remote continues to be non-responsive, replace the battery with a new one.
Receiver Problems
Step 1
Look at the receiver plate switch positions if your remote is able to control some functions of the Control Center, but not all. The circuits switches may be set incorrectly. The receiver plate is the mounted device that looks like a small circuit board, which receives remote control signals and translates them to the LX Control Center.
Step 2
Use a small tipped object (such as an unfolded paper clip) to move the switches of the receiver. The receiver board has two sections of switches: "S1" and "S2." The "S1" switches control the communication link with the remote. The "S2" switch area controls the automatic countdown cycle for the shutdown of the spa jets.
Step 3
Refer to your user manual to configure your timing for the countdown cycle using the "S2" switches. Flip all 10 of the the "S1" switches (located on the right side of the receiver) to "ON" using the sharp thin object on the receiver.
Step 4
Turn your remote control over and flip all 10 of its switches to "ON" as well. Your remote will now control all of the receiver functions.