Things You'll Need
Binder rings

Hole punch

Scissors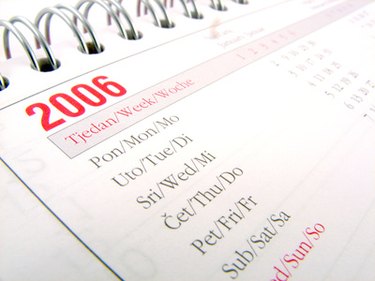 You've already written several items in a calendar that's falling apart and you want to fix it, rather than throw it out. Whether you've made a calendar yourself or one has come unbound, you can have it fixed with a few simple items. Rather than simply stapling it, try some other methods that may help prolong the life of your calendar. Re-binding a wall calendar can be done at home or hired done for a more professional look.
At Home
Step 1
Cut off any pre-punched holes if the calendar was once bound.
Step 2
Punch holes along the top of the calendar where you want it bound.
Step 3
Place an open binder ring through each hole that you punched. These rings come in various diameter sizes. Don't place too many binder rings through the calendar as this may cause it to be top heavy.
Step 4
Close the binder rings to finish the project.
Professional
Step 1
Take your finished calendar to a copy and print center.
Step 2
Choose the type of binding you want. You'll usually have a choice of spiral, comb or wire.
Step 3
Inform the copy attendant where that you want the calendar bound. The attendant will then bind your calendar for you. Depending on how busy he is, you may be able to get it done right away.