Things You'll Need
Spring rod

Curtain

Carpenter's level

Clip-on curtain rings (optional)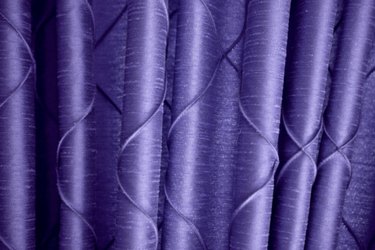 Hiding a closet without doors so its contents aren't an eyesore requires concealing the closet doorway. Common solutions such as placing a folding screen, room divider, bookcase, plants or art in front of the closet take up space and make the closet awkward to use. For an inexpensive, space-saving solution, hang a curtain that matches your walls. This allows convenient access to the closet and hides your closet without doors.
Step 1
Measure the inside of the closet opening—the interior of the frame—from one side to the other. Make a note of this width measurement.
Step 2
Measure the height of the closet opening from the top of the inside of the frame to the floor. Write down the height measurement.
Step 3
Buy a spring rod to fit the width measurement. Buy a curtain long enough and wide enough to fit the closet doorway. The wider the curtain panel is, the more gathers it makes. A flat curtain panel helps create a streamlined effect. To achieve this effect, buy a curtain panel close to the width of the closet opening. Select fabric to match your walls. This camouflages the closet by helping it to blend into the wall.
Step 4
Adjust the spring rod to fit inside the closet frame by twisting one end of the spring rod until it reaches the desired length. Twist clockwise to make the rod longer, or counterclockwise to make it shorter. Make the rod 1/2 inch longer than the width of the closet opening so the spring holds the rod in place.
Step 5
Hold the spring rod in both hands and compress it. Place it at the top of the closet doorway. Check that the tension is strong. Adjust the tension, if needed. Compress the rod and remove it from the doorway.
Step 6
Push the curtain rod through the curtain's channel, tabs or rings. Gather the curtain toward the center of the rod so it won't slip over the curtain rod ends.
Step 7
Compress the tension rod and place it near the top of the closet's opening. Allow at least 1/2 inch clearance between the top of the doorway frame and the spring rod so the curtain moves freely.
Step 8
Hold a carpenter's level even with the top of the curtain rod and check that the rod is level. Adjust the rod by lowering one end or the other until it's level.
Tip
Make your own curtain or use a tapestry or sheet to hide your closet by attaching clip-on curtain rings. Fabric stores carry clip-on curtain rings.
Hardware stores carry tension rods in various sizes. Tension rods have rubber tips to prevent damage to wood and other surfaces.