Pressed wood furniture is composed of particle board finished with a veneer to give it the appearance of solid wood. Because pressed wood furniture does not accept stain well, you should refinish it with enamel instead. Unfortunately, pressed wood is ill-suited for adhesion and will reject a painted finish unless it is treated with primer beforehand. Select the right type of primer, or you will eventually end up with rampant flaking, and use the proper application tool, or you will see brushstrokes in the finish coat.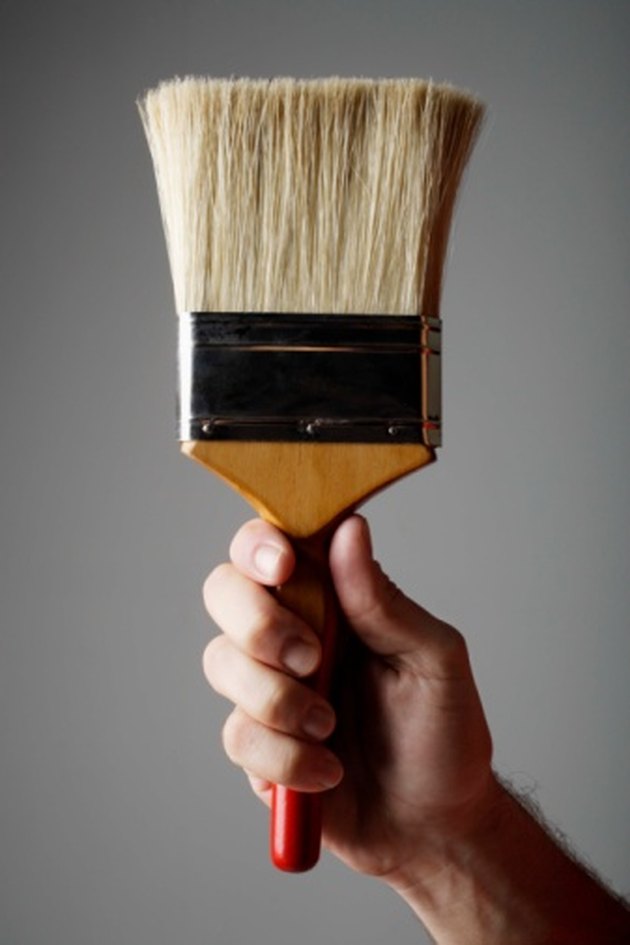 Things You'll Need
220-grit sandpaper

Tack cloths

Heavy-duty fabric drop cloths

Blue painter's tape

Oil-based primer, compatible with acrylic topcoats

2- to 3-inch natural-bristle paintbrush

1-gallon painter's pot

Wooden stir stick

Acrylic enamel

2- to 3-inch polyester paintbrush
Step 1
Sand the pressed wood furniture with 220-grit sandpaper until the finish appears dull. Sand with the wood grain.
Step 2
Wipe down the pressed wood with tack cloths.
Step 3
Set the pressed wood furniture on a heavy-duty fabric drop cloth. Use painter's tape to cover any portions of the furniture you'd like to remain unfinished.
Step 4
Coat the pressed wood furniture with oil-based primer, using a natural-bristle paintbrush. Brush vertically, applying gentle pressure. Watch carefully for runs, and smooth them as they appear. Wait two hours for the oil-based primer to dry.
Step 5
Clean the natural-bristle paintbrush with mineral spirits.
Step 6
Coat the pressed wood furniture with acrylic enamel, using a polyester paintbrush. Paint the furniture just as you primed it. Wait four hours before using the furniture.
Warning
Not all oil-based spray primer is compatible with acrylic enamel. Read the label before you buy, or you will end up with flaking.
Do not paint unprimed pressed wood furniture, or the paint will peel.
Do not use latex primer on pressed wood furniture, or the finish may flake.
Don't use ordinary latex paints on furniture, as they will not remain durable.
Don't use a nylon paintbrush, or you will see brushstrokes in the finish.