Things You'll Need
Hollow bamboo cane

Saw

Thin sword blade

Wood

Power drill

Epoxy

Brass sword ring and retaining spring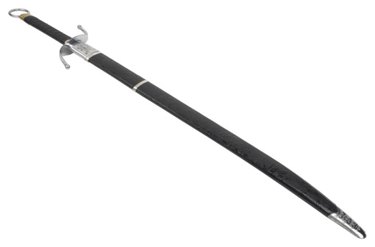 A sword cane is a combination of the classic gentleman's elegant accessory with a timeless defense weapon. Whether you have trained in fencing and want to carry a sword for protection, or if you just like the look of a sword cane, you can build one of these canes using a plain old cane and sword blade. The process is simple enough that you can even use the steps to make sword canes as props for a production or play.
Step 1
Cut off the handle from the length of the cane using a saw. Make sure you leave enough length on the cut end of the handle to fit the tang of the blade.
Step 2
Make a small plug out of wood to fill the hollow of the handle in order to hold the blade steady in the cane. The plug should reach all the way inside the handle until the handle starts to curve. The exposed end of the plug should stick out past the cut end of the handle by ½ inch.
Step 3
Drill a hole through the center of the plug with a power drill. The hole should be big enough to accommodate the thread of the blade tang.
Step 4
Pour the epoxy into the handle until it is ¾ full. When you insert the plug, the epoxy will be displaced, so you don't need to fill it the entire way.
Step 5
Push the plug into the handle until it is fully seated inside, making sure it comes into contact with the epoxy. If any epoxy gets forced out, just wipe it away with a cloth.
Step 6
Pour epoxy into the hole in the plug and screw the blade tang into the hole. Wipe away the epoxy that gets forced out and leave the blade to dry for 24 hours.
Step 7
Apply epoxy to the outside of the brass ring and set the ring around the cut end of the cane with the spring inside the cane. Be careful not to get epoxy on the retaining spring.
Step 8
Leave the brass ring set for 24 hours and insert the blade into the cane. Push the handle down until the plug is covered by the brass ring.
Tip
Take your cane with you when buying the blade and ring in order to ensure a good fit.
Warning
Carrying a sword cane is illegal in certain areas, so check your local laws before taking your sword cane out in public.