Things You'll Need
Maax glass shower enclosure

Pencil

Drill

Drill bit

50 lb drywall anchors

Rubber mallet

Screws

Screwdriver

Caulk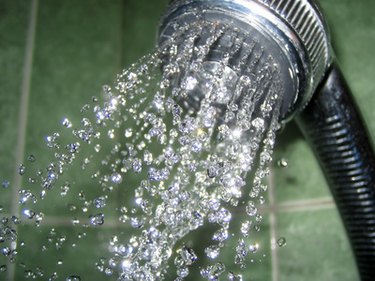 Maax manufactures many different styles and types of bathroom fixtures. Some of its products include tub surrounds, bathtubs, tub showers and shower walls. Many of its shower enclosures are made from glass walls. These walls are held in place with a frame that is installed on nearby walls. While many homeowners may be intimidated to install a glass Maax shower enclosure, it is not difficult.
Step 1
Locate the main water valve in your home and shut it off. This will protect you and your home from potential water damage during the Maax shower enclosure installation.
Step 2
Set the shower panel frame into place. Line up the mounting brackets on the wall with the help of a partner. Use a pencil to mark the mounting holes of the mounting brackets. Remove the frame from the wall.
Step 3
Create holes for the mounting bracket screws with a drill and drill bit. Set 50-lb drywall anchors into the holes. Tap the anchors into place with a rubber mallet. If the holes land on a wall stud you do not need to use the drywall anchors.
Step 4
Screw the mounting brackets into place with a screwdriver and 2-inch screws. Assemble the rest of the Maax shower enclosure frame according to manufacturer directions.
Step 5
Seal joints between the shower enclosure frame and the walls with silicone caulk. Spread the caulk in the joint and spread it with your finger.
Tip
Recruit a friend to help you with the heavy lifting. The glass shower enclosure walls can be quite heavy. Working with a friend will help you avoid damaging the walls during installation.