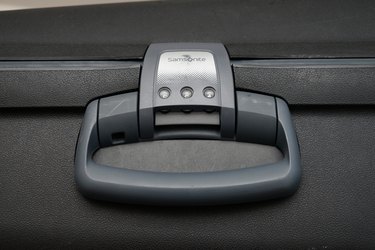 Many Samsonite bags, including briefcases and luggage, have combination locks to discourage unauthorized access and theft. If you have forgotten your Samsonite lock code or you just want to reset it, you can do so at anytime. When choosing a new combination, make sure it is one that you can easily remember but is not easy for others to figure out. If you have lost a key to a Samsonite lock, you can order a replacement key for your bag.
Reset a Lock
Step 1
Close the Samsonite luggage or briefcase.
Step 2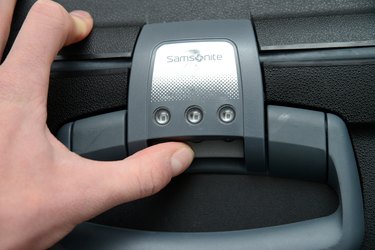 Move the dials on the Samsonite bag to "0-0-0-0." If the bag only contains three dials, set the dials to "0-0-0." This is the factory default lock combination.
Step 3
Push in and hold the small button next to the dials. Some Samsonite bags have a lever next to the dials. If so, push and hold the lever down as far as it can go.
Step 4
Turn each dial to the preferred number to create the code you desire.
Step 5
Release the button or lever. The lock combination is now reset and you can begin using your new code to open the lock. If for some reason the reset procedure does not work and you are unable to open your Samsonite bag, use the information provided in Section 2 to contact Samsonite's customer service department for assistance.
Lost Key/Replace Padlock
Step 1
Call Samsonite Customer Service at 1-800-262-8282. Representatives are available Monday through Friday from 10:30 a.m. to 5:30 p.m. EST.
Step 2
Press "1" and then "6" on your telephone keypad to speak with a representative to order a replacement key or padlock.
Step 3
Pay the required fee. Samsonite will then send out the replacement key.
Tip
You can obtain the services of a local locksmith to open your lock or make a new key.
Warning
Picking a key lock can damage the internal locking mechanism. It is best to order a replacement key.