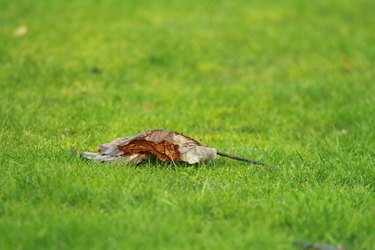 Laying down Bahia sod is one of the best ways to start a green and beautiful lawn. However, it can be expensive, and you have to know how to take care of it for it to grow correctly. Helping Bahia sod grow will require knowing the best fertilizer for Bahia grass and how long you should wait to mow new sod. That way, your investment will pay off with a gorgeous green lawn.
Watering Newly Laid Bahia Sod
Sod works by growing grass in a layer of soil a few inches thick. Landscapers lay it down on top of your soil, and the roots grow down from the sod into your prepared ground. Therefore, the first few weeks are critical for the sod to take hold and become a lush lawn.
For the first 10 days after you lay it down, you should keep the sod moist at all times. You will need to water the sod three times a day for about 10 minutes – once first thing in the morning, once in the late morning before it gets too hot and then one final time in the evening shortly before nightfall. You don't want to water during the hottest parts of the day or the water could burn the grass.
After 10 days, test the sod by gently trying to lift a corner of one of the squares. If it resists, then the roots have grown down, and you can reduce watering to once a day for the rest of the season. If not, continue watering three times a day.
Caring for Newly Laid Bahia Sod
New sod is fragile, so you should avoid walking on it for at least two weeks. If you have children or pets who regularly play on the lawn, you should plan to take them to a park during those two weeks instead. That way, your sod will have time to settle and become less fragile.
You don't need to fertilize newly laid Bahia grass immediately, but you should plan to apply fertilizer twice in the fall: once in October and once in mid-November before the frost sets in. The best fertilizer for Bahia grass is a 16-4-8 combination. In future years, you will need to continue fertilizing twice in the fall and once in the spring.
The optimal time of year to lay down new Bahia sod in your yard is early in the spring. Spring tends to be rainy enough to foster root growth but not hot enough to damage the grass on top.
How Long Should I Wait to Mow New Sod?
Bahia grass sod is the best choice for many lawns. It has a deep ivy color, and at the same time, it tolerates inhospitable conditions well, especially drought and shade. This sod is a popular choice because it is relatively low maintenance. It doesn't need to be watered or fertilized as frequently as other types. You can also wait longer between mowings if required.
When you mow Bahia sod for the first time, you should wait at least a few weeks after you lay down the sod. You want the root system to be well established first, watching for consistent and robust new growth on the top of the lawn. Whenever you mow, cut your blades of grass to about 2 to 3 inches tall. The frequency will depend on your growing conditions and how quickly your grass grows, but that will be about once a week in most regions. Try not to remove more than a third of the blade of grass when you mow.