Things You'll Need
Volt/ohm meter

Drainage type pump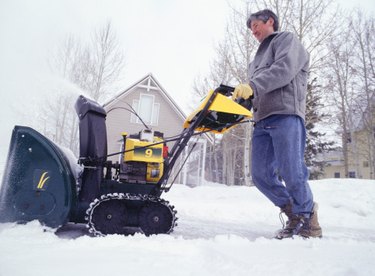 Toro is a company that produces snowblowers, lawnmowers and various irrigation tools. Founded in Minnesota in 1914 as the Toro Motor Company, it produces snow-removal equipment for commercial and consumer use. The Toro S-620 snowblower, now discontinued, was produced from 1981 to 1995. Occasionally a machine this old will need repairs. However, before sending in the snowblower for what could be expensive repairs, you should perform a basic set of troubleshooting steps to try and solve your problem.
Step 1
Drain and refuel the snowblower because fuel left unused in the tank begins to degrade after 30 days. According to Toro, this is the No. 1 reason engines do not start. Use a drainage type pump to remove as much fuel from the tank as possible, according to the model's service manual. To finish draining the remaining fuel, start the snowblower if you are able to, and wait until it runs out of fuel. This ensures the unit is completely disposed of any remaining gas left in the tank.
Step 2
Plug another appliance into the extension cord used to power the engine. This will rule out if the power supply to the electric starter is working.
Step 3
Use a volt/ohm meter to check the starter switch. Then check the wire harness of the starter to look for broken wiring or bad connections. If the connection can be tightened, do it manually, but make sure the power is turned off.
Step 4
Locate the pinion gear near the shaft of the snowblower. Clean any debris visible near the pinion gear. This can occasionally prevent the engine from turning over.