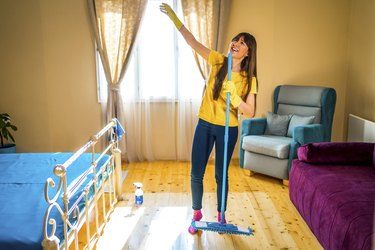 The methods for cleaning hardwood floors are different from those used on other kinds of flooring. For example, if you spill juice on a tile floor, you can clean it up with dishwashing soap and plenty of warm water. You don't want to do this on a hardwood floor because it could damage it. Using the right cleaning products and tools will protect your hardwood and keep it looking pristine for years to come.
Best Hardwood Floor Cleaner
You should regularly dust or vacuum hardwood floors to remove pet hair, dust and dirt. Experts advise against using vacuums with beater bar attachments because they can scratch your floors; use a floor-brush attachment instead. A dust mop is also good, as you can use this to push the debris elsewhere and vacuum it up.
You will also need to give your hardwood floors a deeper cleaning every once in a while. Make an easy homemade cleaner by adding one part of white vinegar to 10 parts of warm water in a bucket and dropping in a little bit of liquid Castile soap. There are a few more homemade hardwood floor cleaner recipes you can try. These include mixing equal parts of vinegar and warm water, equal parts of vinegar and vegetable oil, a gallon of hot water or 1/2 cup of lemon juice and 3/4 cup of olive oil.
If you prefer to use commercial hardwood floor cleaners, several good ones are out there. Some experts recommend Bona Hardwood Floor Cleaner, Murphy Oil Soap Wood Cleaner and the plant-based Better Life Naturally Dirt-Destroying Floor Cleaner. Before choosing one, make sure you can use it on the type of wood you have. Always follow the product label directions.
Removing Sticky Stuff From Hardwood
Sometimes, hardwood floors are installed with glue, which you might find on the floor after an installation is completed. If you find this or another sticky substance on your hardwood floor, you can try DIY recipes, but an adhesive remover for wood floors might be better. If the glue is still wet, first find out if it is water- or solvent-based.
Experts recommend using a damp, soapy rag to clean up the mess if it is water-based. A little bit of acetone should work on a wet solvent-based glue stain but use it sparingly and clean with a damp, soapy rag. For sticky residue stains, get some white vinegar or a natural cleaning oil. Gently scrub it into the stain with a soft toothbrush, let it rest for a minute and wipe it clean. These methods can also work if someone leaves a sticker or sticky tape on your hardwood floor.
Other ways to remove sticky residue from hardwood floors include dabbing a bit of petroleum jelly onto the stain, and some websites claim that heating a hardened glue stain will loosen it up enough to scrape it off with a blunt edge. You can also buy a hardwood glue remover product, like Loctite Glue Remover or Klean Strip Green Floor Adhesive Remover.
Removing Dried Glue From Floors
For dried glue stains, hold ice on them for at least five minutes and apply firm, horizontal pressure with a blunt edge, such as a butter knife, to break up the glue. Follow with a small amount of acetone and the damp, soapy rag.
Be very careful when using any kind of blade. If possible, wear work gloves during this project to protect your hands. Never let children undertake this sort of project on their own.