Things You'll Need
Hydraulic cement

Putty knife

Detergent

Scrub brush

Degreasing detergent

Chlorine bleach

Water supply

Masonry sealer

Paint stirrer

Painting tray

High nap paint roller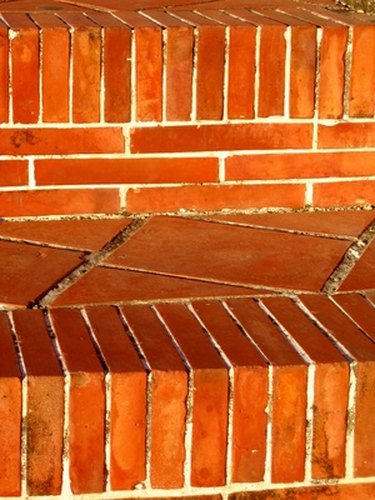 Sealing steps help to protect the brick from stains and weathering. Brick stairs are strong, durable and long lasting, but they can become damaged from salt, deicers and freeze/thaw patterns. Water enters mortar joints through tiny cracks and holes, freezes and then cracks mortar or displaces brick. Masonry sealants create an entry point barrier and stops water from entering. Some sealers also keep bricks looking newer longer by blocking harmful UV rays.
Step 1
Patch surface cracks with hydraulic cement. Apply hydraulic cement with a putty knife, pressing it deeply into the crack and building it up flush with the existing surface.
Step 2
Wash the steps with a mild detergent and water; scrub the surface to remove dirt and debris. Use a degreasing detergent to remove oil and grease stains. Make a mixture of equal parts chlorine bleach and water and scrub away mold and mildew stains.
Step 3
Allow the steps to dry completely, at least 24 to 48 hours.
Step 4
Stir masonry sealer with a paint stirrer. Do not shake as this may cause air bubbles.
Step 5
Pour the sealer into a painting tray.
Step 6
Roll a high nap paint roller into the masonry sealer and roll onto the brick. Create a "V" pattern as you roll the sealer on and continually cross over the "V" to fill in all tiny crevices on the brick surface. Continue until the sealant covers the entire surface.
Step 7
Allow the sealant to dry thoroughly, generally 12 to 24 hours.
Step 8
Apply a second coat of sealer with a roller in the same manner as the first coat. Allow the sealer to dry completely and apply a third coat if desired.
Tip
Choose a sealer that will allow moisture vapors to escape from the structure. This information is on the label.
Wear safety glasses and gloves when coating brick surfaces. Allow new masonry to cure for 30 days prior to sealing.