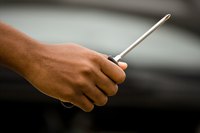 Gel stain is a thicker stain that is commonly used to stain vertical surfaces such as doors and walls. This is because the stain will not drip and run like liquid stains. When staining fiberglass with gel stain, the stain will not soak into the fiberglass like stain does with wood. Because of this, it is simpler to remove stain from fiberglass doors. Always use gloves and goggles when using chemical strippers to protect your skin and eyes.
Things You'll Need
Phillips-head screwdriver
Goggles
Gloves
Drop cloth
Paintbrush
Fiberglass stripper
Cloths
Remove the door from its hinges by unscrewing the vertical screw that holds the door on the doorjamb.
Remove the hinges by unscrewing them from the fiberglass doors. Set them aside.
Place the door on a worktable above a drop cloth
Dip a paintbrush into the fiberglass stripper.
Paint the stripper onto the fiberglass door in small sections. Leave the stripper on according to the manufacturer's instructions, normally two to three minutes. This will help ensure that the stripper removes only the stain and not the fiberglass door's protective coating.
Wipe off the stripper sealer with a clean cloth. Use several cloths to ensure that you are rubbing off the stripper.
Repeat the process with the rest of the door.
Dip a clean cloth in clear water and rub it over the entire front and back of the fiberglass door to remove the stripper residue.
Reattach the hardware and put the door back on its hinges.