Things You'll Need
2 boards, any type of wood, 3/4-by-4-by-36 inches

Table saw

Wood glue

3 bar clamps, 24 inches

Glue scraper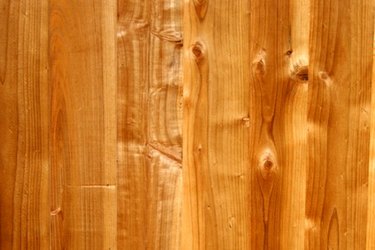 One method of joining wood boards together is by using the butt joint. With modern wood glue, the butt joint is just as strong as any other joint and takes far less time to accomplish. Most experienced woodworkers rely on the butt joint for efficiency and speed. All cabinet manufacturers use butt joints to join panels for doors, as this is the most common way to join two pieces of wood together. Laminated butt joints are the best way to join to wood together.
Step 1
Cut off the edges of both pieces of wood using a table saw. Use a tri-square to check the cut for squareness. If the cut is not square, adjust blade tilt until the saw cuts perfectly straight edges. Adjust the tilt by turning the large chrome wheel on the front of the saw. Watch the blade tilt left or right. When the blade is perpendicular to the tri-square, stop turning.
Step 2
Lay the two boards on a flat work surface. Place the two freshly-cut edges together and check them for inconsistencies in the cuts. If they do not fit tightly together, cut them again until they do. Small gaps of about 1/32 inch are okay.
Step 3
Run a bead of wood glue along both edges where you cut. Slide the boards together, making the glue ooze out.
Step 4
Place a clamp at both ends of the board and tighten slightly. Flip the boards and the clamps upside down. Place another clamp on this side in the middle. Tighten all three clamps as tight as you can. Wait one hour for the glue to dry.
Step 5
Remove the clamps, scrap away the residual dried glue with the glue scraper.
Tip
If longer pieces of wood are being joined, place bar clamps approximately 10 inches apart. For wider panels, simply clamp more boards together at the same time.
Warning
Always wear safety glasses.