Things You'll Need
Screwdriver

Chisel

Weiser electronic deadbolt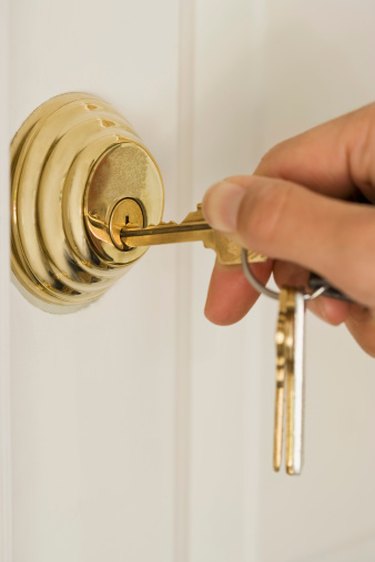 Weiser Locks are a new generation of smart locks that combine deadbolt locks with the modern technology including digital controls. The key locks are remarkable in that you can rekey your lock without removing it or calling a locksmith. Installing the Weiser Lock System is moderately simple.
Step 1
Remove the old lock from your door using a screwdriver. Take off the strike plate on the doorjamb also.
Step 2
Test fit all of the parts in the existing holes. Use a chisel to widen the holes if the Weiser parts do not sit flush in the wood.
Step 3
Extend the bolt of the lock all the way and slide it into the hole in the side of the door. Make sure the holes along the length of the latch are on the bottom of the assembly.
Step 4
Insert screws into the drilled holes on the plate on the side of the door. The latch should be held securely in the door by the screws in the plate.
Step 5
Hold the exterior side plate against the outside of the door. The strip cable should enter through the hole in the door and slide above the body of the latch to come out to the interior side of the door.
Step 6
Locate the mounting plate for the interior side of the door. The plate is half the size of the deadbolt plates and has screw holes to attach it to door.
Step 7
Set the mounting plate against the interior of the door, covering the hole containing the mounting assembly. The strip cable should go above the mounting plate and stick straight up.
Step 8
Insert screws into each of the holes in the mounting plate and secure with a screwdriver. Drive screws into the holes in the exterior faceplate to finish attaching it to the door.
Step 9
Pull the cover off the interior faceplate and set it aside. The cover will need slight force to remove it. Don't be rough or it may break.
Step 10
Slip the end of the strip cable into the socket on the back of the interior plate. Push the cable in until all of the prongs engage in the socket.
Step 11
Hold the interior faceplate onto the door and attach it with screws. Replace the cover on the face by pushing it into place.
Step 12
Attach the strike plate onto the doorjamb. Ensure the deadbolt lines up. Make adjustments with the chisel if needed.
Tip
Keep all of the instructions that come with your lock for future reference.
Warning
Do not start installing your lock unless you are sure you have time to finish it that day.