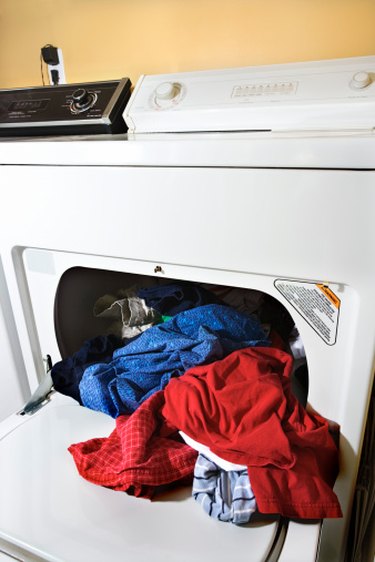 You can shrink an oversize Under Armour garment if contains some natural materials. Most Under Armour sporting apparel is made of tightly woven synthetic fibers designed to retain their shape under extreme conditions. Under Armour clothing made from natural fabric materials can be shrunk using a common household washer and dryer. A shrunken article of Under Armour clothing may stretch back to the original size after multiple uses. The piece can be shrunk again and again using the same method.
Step 1
Check the label inside the Under Armour garment for natural materials like cotton and wool. Polyester and nylon do not shrink noticeably.
Step 2
Set the washing machine to the hottest possible setting and the longest possible cycle. Add the Under Armour garment to the washer by itself as soon as the washer is filled with hot water. Let the washer run its cycle.
Step 3
Move the piece of Under Armour to the dryer. Turn the clothing inside out if there is any print. Run the dryer on the highest heat setting until the shirt is dry.
Tip
An Under Armour garment that never shows wrinkles is not made of natural fibers.
Warning
Irons can damage synthetic fibers and vinyl printing on clothing.