Things You'll Need
PEX piping, appropriate size

Compression fittings, appropriate size

Teflon pipe dope

Adjustable wrench and pipe wrench or locking pliers

Utility knife

Compression fittings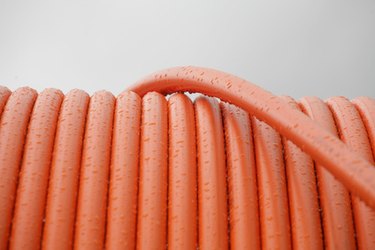 PEX pipe is made from polyethylene (HDPE), which is high density and flexible. It is manufactured in all the standard pipe sizes and can be used for either hot or cold water applications. PEX is made to replace copper pipe, cast-iron pipe and virtually every other composition of pipes for plumbing. Because PEX is made of plastic, it will remain flexible in any application. This quality makes PEX a water supply plumbing product that can be inserted into hard-to-reach areas, snaked over beams or supports and connected up to any fixture, wherever that fixture may be.
Step 1
Obtain a specific PEX compression fitting that will attach to your fixture. A standard fixture size is 1/2 inch, but there are many sizes and types of fixtures. Compression fittings for PEX pipe will either screw directly onto an existing fixture, such as a water feed line, or threaded sweat fittings can be soldered onto regular copper pipes first before attaching the PEX.
Step 2
Coat the threads of the fixture with Teflon pipe dope, then screw the nut of the compression fitting over the threads on the fixture. Use an adjustable wrench to tighten it down firmly.
Step 3
Push the end of the PEX pipe through a compression nut, then push a compression ring onto the end of the pipe. Firmly push the PEX pipe into the nut attached to the fitting, then hand-screw the compression nut on the PEX over the threads of the fitting nut.
Step 4
Attach either a pipe wrench or a locking pliers onto the fixture nut, then tighten down the compression nut on the PEX pipe. Hold the pliers or pipe wrench steady so that there is no movement on the fixture nut, and tighten the compression nut securely.
Tip
Compression nuts and fittings are the easiest way for do-it-yourself applications when attaching PEX to fixtures. However, there are specialized professional tools that can be used to crimp and clamp PEX pipe to virtually any fixture quickly and effectively. For multiple jobs, these professional tools may be a viable alternative to save time and effort, but for the homeowner with just a fixture or two that needs to be connected, compression nuts are a far easier and more cost-effective way to get the job done.