Things You'll Need
Screwdriver

Socket wrench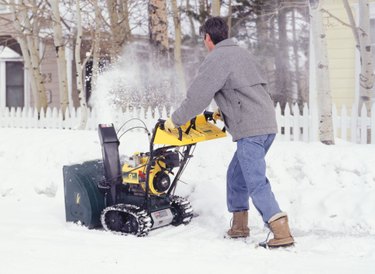 After a few seasons of clearing walks and driveways of snow in the harshest of weather, the drive belt on a Honda snowthrower can begin to deteriorate and weaken. Before the snowy part of the year begins, take a moment to inspect the belt to ensure the machine is in top condition for the season ahead. Replacement drive belts are generally available at hardware stores and home improvement retailers that sell Honda power equipment.
Step 1
Turn off the engine and detach the spark-plug wire. Unscrew the belt cover bolts, which are located on the right side of the unit. Remove the belt cover.
Step 2
Depress the clutch lever to release tension on the pulleys. Remove the round pulley on the end of the auger with a socket wrench. Remove and discard the drive belt.
Step 3
Place the new drive belt on the pulleys. Place the auger pulley in place with the new drive belt around its grooves. Tighten the auger pulley wheel back into position with a socket wrench.
Step 4
Replace the belt cover, and tighten the screws to secure it in place. Reattach the spark-plug wire.