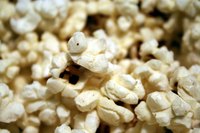 Microwave ovens have made enjoying popcorn a much easier proposition than it used to be--no more big pots and burned kernels. You can control the quality of your microwave popcorn by controlling the ingredients used to create it. The Presto Microwave Popcorn Popper lets users select the popping corn, choose the type of oil (if any) that they used and control the amount of salt used for flavoring.
Things You'll Need
Presto Microwave Popcorn Popper
Oil
Popping corn
Popcorn salt or table salt
Clean the microwave's interior if there is any grease or food residue and make sure the turntable (if your microwave has one) is properly in place. Note that if the interior of your microwave is smaller than 10 inches wide by 6 inches high, the Presto Microwave Popcorn Popper will not fit.
Secure the popping bowl to the popper's Powerbase concentrator. Line the tabs on the popping bowl with the grooves in the base and rotate the bowl until it is locked into place. Once the bowl is attached, place one of the PowerCup concentrators into the bowl and press down.
Add one-third of a cup of popping corn onto the PowerCup concentrator. If you are making oil-popped popcorn, place 1 to 2 tbsp. of oil on the PowerCup concentrator before adding the popping corn. If you are making butter-flavored popcorn, add 1 to 2 tbsp. of butter-flavored oil to the concentrator prior to adding the popping corn. If you are making air-popped corn, simply add the popping corn without any additional oil.
Place the Presto Microwave Popcorn Popper's cover on the bowl and place the popper in the center of your microwave oven. Set the timer for five minutes and set your microwave on its high setting. Your popcorn should be ready in two to five minutes. Listen carefully as your popcorn is popping--once the popping slows down and there are two- to three-second intervals between the popping, it is time to stop.
Remove the popper from your microwave using the carrying handle on the popping bowl. Lift the lid carefully, angling it toward you to prevent potential steam burns. Sprinkle your popcorn with salt (if desired) and serve.