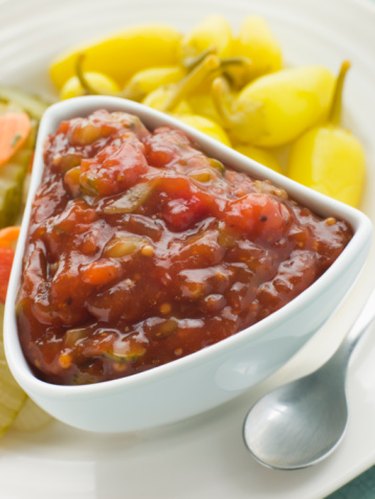 Tomato relish is an uncommon condiment that deserves a more prominent place in your kitchen. Like pickle relish, tomato relish can be made according to a variety of recipes from sweet-tart to savory. All recipes require finely diced tomatoes with seasonings and spices to make an American version of salsa. Another way to think of tomato relish is like a chunky ketchup, as it can have a similar flavor profile. Use it anytime you want to add the tang of tomato ketchup with more texture and body. Tomato relish can be found at farmers' markets, specialty grocers or made from scratch.
Step 1
Replace ketchup or tomato paste in recipes with tomato relish. For instance, instead of ketchup to top a meatloaf, spread an equivalent amount to tomato relish over the loaf before baking for a rich, tangy topping. Alternatively, mix in 1/2 cup of tomato relish into meat loaf, meat balls or hamburger patties before shaping and cooking for a tasty surprise.
Step 2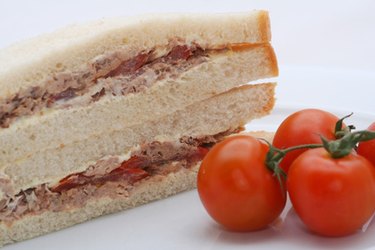 Substitute fresh tomatoes on sandwiches with tomato relish. Spread 1 to 2 tbsp. of tomato relish on your bread or between the slices of cheese or meat to keep the bread from becoming soggy. Peppers in tomato relish will add a zip to BLTs and hamburgers. Use tomato relish when fresh tomatoes are out of season or unavailable.
Step 3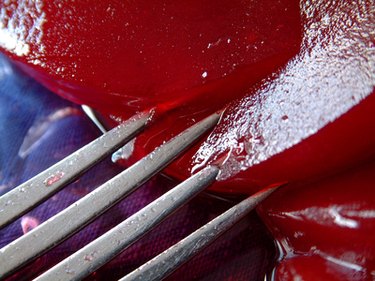 Top roasted poultry or pork with a spoonful of tomato relish as you would use applesauce or cranberry relish as an acidic foil for the meat.
Step 4
Spread your pizza dough with a thin layer of tomato relish to replace the traditional tomato sauce. Add toppings and bake as usual.