Things You'll Need
Coffee can

Drill

Coat hanger

Wire cutter

Pliers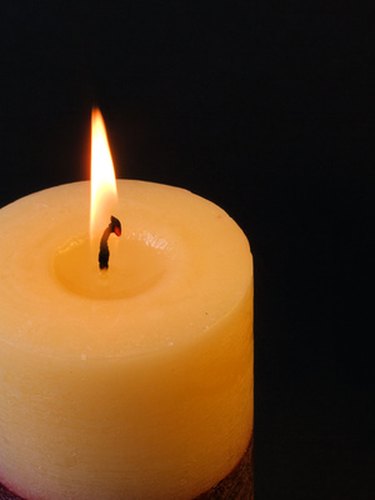 Melted candle wax is used to make homemade tapers, container or molded candles, and is commonly melted in a double boiler. If you do not have access to a double boiler, you can make a candle wax melter out of materials that can be found around the house. You can use a homemade candle wax melter in a standard pot to melt both paraffin wax and beeswax, and you can store unused wax right in the container.
Step 1
Drill four holes 1/4-inch below the rim of a large coffee can, placing two holes on either side of the can directly opposite from each other.
Step 2
Cut out the flat bottom portion of two coat hangers using wire cutters. Discard the rest of the coat hangers.
Step 3
Bend both coat hangers in half with pliers.
Step 4
Insert the ends of one of the bent coat hangers into the holes on one side of the coffee can. Stick the ends about 2 inches into the can.
Step 5
Bend the ends up and over the rim of the can using pliers so that the ends are touching the bent hanger.
Step 6
Repeat the process with the other bent coat hanger. You can now place wax into the can, then place the can into a pot of water to melt the wax properly.