Things You'll Need
Garden hose

Clear latex concrete sealer

Paint brush

Bucket

Warm water

2 Lint-free cloths

Black exterior concrete paint

Moss

2 cups buttermilk

Blender

Plastic trash bag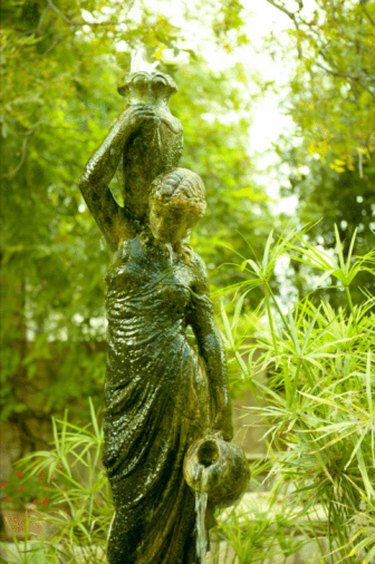 Concrete statues will develop a patina, or darkened color, over time as they sit outside and receive exposure to the elements. The statues will also develop a covering of moss or lichen, which adds to the antique look. You can leave your statues outside for years to gain the antique look, or you can create the look yourself with some paint, exterior sealant and buttermilk.
Step 1
Wash the concrete statue with a garden hose and allow it to air dry overnight.
Step 2
Paint a thin layer of exterior latex concrete sealer onto the statue with a paint brush. Allow the sealer to dry for 24 hours.
Step 3
Fill a bucket with warm water and soak a lint-free cloth in the water. Open the black exterior concrete paint and dip your paint brush in the paint. Paint the entire surface of the statue with the black paint. The darker you want the color, the thicker you should paint on the black color. Leave it on the statue for 10 seconds.
Step 4
Wring out the cloth and begin wiping off the excess paint. Wipe the surface again with a dry, lint-free cloth. Repeat the painting process if you want a darker color. Let the paint dry for 24 hours. Wash out the paint brush.
Step 5
Paint on another layer of the exterior sealer.
Step 6
Collect moss from around your yard and tap it to remove the dirt. Put the moss pieces in a blender and add 2 cups buttermilk. The more moss you want to grow on the statue, the more moss you should add to the buttermilk. Blend the mixture until it is smooth.
Step 7
Paint the statue with the buttermilk and cover it with a plastic bag. Set the statue in the shade for 10-14 days, until the moss begins to grow.
Tip
If you want the statue to look more rain-stained, pour the paint over the top of statue instead of painting it over the entire surface. Wipe it off in the same fashion.