Things You'll Need
Dust mask

Newspaper

Vacuum

Stove pipe brush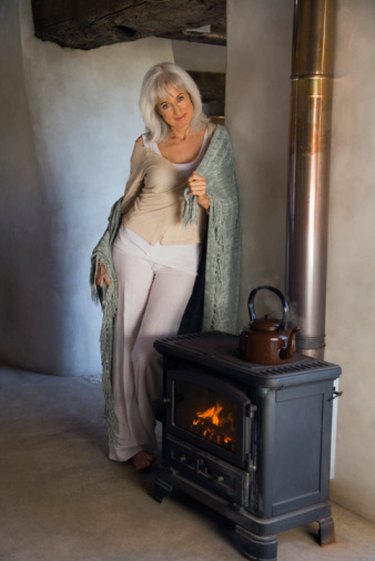 The pellet stove is an advanced wood-burning system that supplies heat to your home. Air, heat and exhaust is controlled by a set of fans. Fuel is supplied to the auger, and then to the burn pot, where it is combusted by a heat transfer device. As wood burns, soot will build up in the pipe. Too much soot buildup may cause excessive smoke and burning inside the stove. To prevent soot buildup, clean your stove every eight to 10 weeks.
Step 1
Place newspaper in front of the stove before beginning to keep your floor clean.
Step 2
Vacuum the burn pot to remove any soot from the inside of the unit.
Step 3
Run the ash tool that came with your stove to clean out the pipes inside the pellet stove. Vacuum again to remove any loose debris.
Step 4
Walk outside the home and find the vent for your pellet stove.
Step 5
Remove the end of the exhaust pipe (a metal hood) by twisting it and pulling off.
Step 6
Slowly feed a stove pipe brush with a long cable attach (called a snake) through the pipe system to remove soot from the inside of the pipe. Pull the snake back out to remove the soot.
Step 7
Find the pipe leading to the stove inside the home and remove the bottom of the elbow joint by pulling it off, and scrape the inside of the pipe with a brush. Reassemble.
Tip
Put on a dust mask to prevent soot from getting into your lungs.