Things You'll Need
Pipe cutter or reciprocating saw

File

No-hub connector coupling

Socket wrench or Phillips screwdriver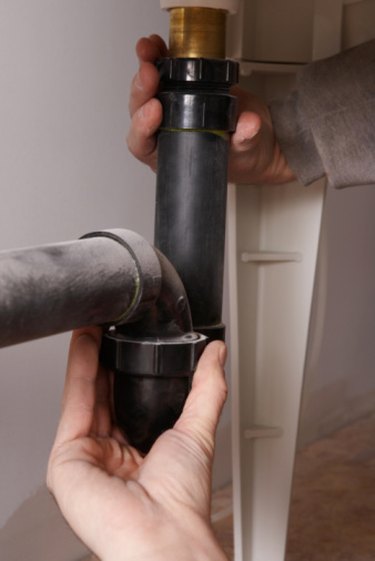 If you begin a remodeling or repair project in an older home, you may find that the plumbing lines are made form cast iron. Newly constructed homes have now switched over to using PVC plumbing pipes, which are more cost effective and easier to work with. With the right tools and a special coupling, you can easily connect this newer technology to the older cast iron pipes.
Step 1
Turn off any water source that may be feeding the pipes you wish to join. Remove any surrounding obstructions from the cast iron pipe, such as insulation, so you can gain the best access to it while working.
Step 2
Cut the existing cast iron pipe if necessary. If you have a leaky or burst section of pipe and need to switch over to PVC, you will have to cut the existing pipe. This can be done by using a pipe cutter made specifically for cutting pipe. A faster option is to use a reciprocating saw, also known as a "Sawzall."
Step 3
Connect one side of your no-hub coupling connector to the cast iron pipe. A no-hub connector is the standard coupler to join PVC and cast iron pipes. They are available in many sizes, so make sure you purchase the one best suited for your particular needs.
Step 4
Tighten the bolts on the cast iron pipe end of the coupling. This tightening clamp will accept either a socket wrench or a Phillips screwdriver.
Step 5
Insert the PVC pipe into the other side of the no-hub coupling. Make sure you insert it all the way, so the end is as flush with the cast iron pipe as possible. A small gap or mismatch is not an issue. Tighten the clamp on this end as well, and make sure everything feels tight and secure. Your pipes are now properly joined.
Tip
Test your joint by running water through the pipes and visually checking for leaks.
Warning
Always wear the proper safety gear when cutting any material, including cast iron pipe. Make sure you get your bolts as tight as possible to prevent leakage in the joint.