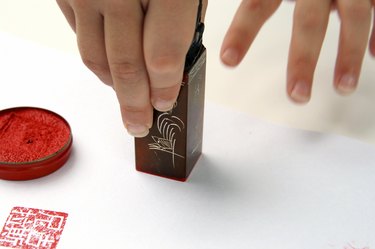 Smearing ink is cause for concern when you're printing out images on a home printer, creating your own hand-inked illustrations, or stamping designs for a scrap-booking project. Some inks seem more likely to smudging than others, and some inks simply don't pair well with certain types of crafting materials. Use specialty inks or papers or apply a fixative to your inked project -- the two primary ways to assure the ink does not smear.
Computer-Printed Projects
Home-based inkjet printer ink smears quite easily on standard office paper. If water touches the ink, it turns the ink into a watery mess that looks more like watercolor paint. Select a quick-drying photo paper, rather than standard office or copy paper, to ensure a quality printout. The ink still needs at least a minute or two to dry completely, so set the paper aside before touching it.
Stamp-Pad Ink Smudges
Stamp pad inks are either dye- or pigment-based. Dye-based inks dry quickly and are less prone to smudging, even on materials such as vellum, so choose a dye-based ink whenever possible.
The Fixative Fix
A fixative or artist's varnish protects work of all sorts from smearing -- even pastels or charcoal pencils. Choose an archival fixative, as it does not yellow over time. Spray the inked project by holding the fixative can 18 inches or more away from the project, working in smooth, slow, overlapping strokes, as if spray painting. Test the fixative on a scrap piece of paper of the same variety, over the same type of ink you use on your projects.