Things You'll Need
Fans

Heat gun or hair dryer

Large format ink dryer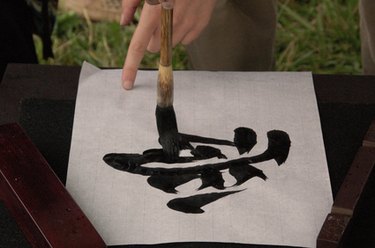 Drying ink may seem like a common sense step in ink projects, but science has a lot to do with it. There are ways to speed up drying times and allow you to move on with your project. Whether you are a professional printer or a home crafter with ink projects, drying your ink can make a big difference in the results and quality of your finished projects.
Printer Ink
Step 1
Leave your computer-printed documents in the printer tray for at least 5 minutes before removing them. Pick them up carefully and only touch the edges of the page to avoid smearing any of the ink.
Step 2
Place your caligraphy work in a room with a fan, not stacked with other pages, until the ink is completely dry and does not appear to have a shine. Point the fan away from the ink, but near it to increase air flow.
Step 3
Dry your rubber-stamped projects with a heat gun. Heat guns are available at craft stores. Alternatively, you can use a hair dryer on a medium heat setting. The heat will help to evaporate moisture from the pigment and speed the drying process.
Step 4
Iron your clothing, without steam, before using any fabric markers. This will help to expedite the drying time of the ink in the markers.
Step 5
Dry thick caligraphy ink on a flat surface to air dry for about two minutes to let the ink congeal. Moving the page may cause the heavy ink in the stress points of your writing to run. Use a heat gun or hair dryer to speed the drying time. Never stack pages of caligraphy on top of each other until the ink is fully dry.
Step 6
Raise the thermostat in the room any inked objects are drying in. The added heat in the room will help to evaporate the moisture in any type of ink and is an option for drying multiple items, rather than using a heat gun on each individual item. Place fans in the room to help circulate the warm air.
Step 7
Purchase a large format ink dryer for commercial use. If you own a print shop or you are making posters and banners with a commercial printer, your printer's manufacturer can suggest a model for you, or they may even carry one to fit your specific printer.