Things You'll Need
½ cup white distilled vinegar

¼ cup lemon juice

26 ounces warm water

32 ounce spray bottle

Masking tape

Permanent marker

Clean sponge

Funnel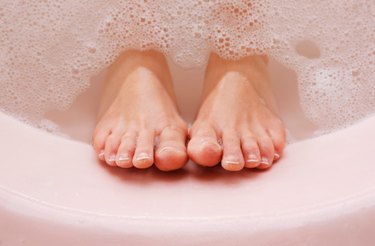 Air tubs are a type of jetted tub where air is pushed out through jets that are already installed in the tub. Unlike whirlpools that shoot warm water through their jets, air jet tubs shoot warm air to massage and soothe aching muscles. These kinds of systems predominately have valves that do not allow the bathwater inside of the pipes, and contain a one minute cleaning system that turns on when the jets turn off. Cleaning this type of tub is like cleaning a regular bathtub without harsh chemicals.
Step 1
Place a strip of masking tape on the empty spray bottle. Write on the masking tape with the permanent marker to label the bottle "Lemon and Vinegar Multipurpose Cleaner".
Step 2
Place the funnel inside the opening of the bottle. Pour the vinegar and the lemon juice into the bottle along with the warm water. Screw the lid on securely and set the nozzle to your preferred setting.
Step 3
Spray the tub with the solution and allow the cleaning solution to sit for 5 to 10 minutes.
Step 4
Scrub the tub with a clean, soft sponge. This will remove the dirt, grime, and soap scum, as well as disinfect the surface of the air jet tub.
Step 5
Rinse the tub out with warm water. You can dry the tub with a towel if desired, but no harm will be done if you choose not to.
Tip
For clogged drains, you can pour 1 cup of baking soda followed immediately by 1 cup of white vinegar down the drain, wait 15 minutes and pour 4 cups of boiling water down the drain. This will clear any debris that is blocking the drain.
Warning
Never use harsh chemicals to clean your air jet tub. This can result in damage to the finish which will void your warranty.