Things You'll Need
Measuring tape

Cardboard

Pencil

Level

Wooden shims

Screwdriver

Galvanized screws

Tub spout and drain

Cement backerboard

Tile

Tile spacers

Thin set mortar

Notched trowel

Grout

Grout float

Grout sponge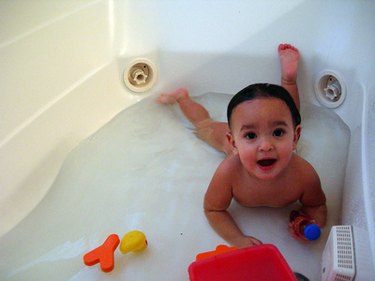 Drop-in bathtubs are typically larger than normal bathtubs and require a built-in frame. Alcove tubs are installed in an area surrounded by three walls. Installing a drop-in bathtub in an alcove will require less tiling work, but may require more upfront work in building a frame that works for the tub. When building the frame, consult the manufacturer specifications. Knowing how to install a tub will help you get started.
Step 1
Measure the alcove space with a measuring tape. These measurements will help you to purchase the right size of bathtub.
Step 2
Place a piece of cardboard in the bottom of the tub. The cardboard will keep the bottom of the tub from getting scratched as you work.
Step 3
Check the subfloor where the tub will be located. The floor should be level and sturdy.
Step 4
Build a frame for the tub that fits into the alcove using the manufacturer specifications. Most drop-in tub manufacturers include instructions for building the tub frame.
Step 5
Set the tub in place and mark the holes for the plumbing and fixtures. Remove the tub from the framing.
Step 6
Install the plumbing. Homeowners who are uncomfortable with this should consult with a plumber or licensed professional.
Step 7
Place the drop-in bathtub in the frame again. Set a level on the top of the tub. Shim the tub with wooden shims until the top of the tub is level. Secure the tub by screwing galvanized screws through the tub flanges into the wall studs. In some cases, the tub may also come with mounting blocks that go under the lip of the tub. Consult the manufacturer directions of the tub as necessary.
Step 8
Install the tub spout and drain per manufacturer directions.
Step 9
Cover the bathtub framing with cement backerboard. Screw the backer board directly to the framing.
Step 10
Tile the cement backerboard. Spread thin set mortar with a notched trowel and install the tiles over the mortar. Place tile spacers between the tiles. Cut the tiles with a tile saw. Allow the mortar to dry overnight before grouting. Spread the grout with a grout float and remove the excess with a damp grout sponge. Let the grout dry overnight before use.