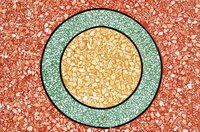 Finely crushed stone added to epoxy resin is a popular inlay material for jewelry makers and other craftspeople. The resin-stone mix can be easily applied to carved or cast voids in a piece. When the resin hardens it gives the look of meticulously inlaid stone. You have many options of stone type and resin color to help achieve nearly any look you like, from turquoise to granite.
Things You'll Need
Epoxy resin
Epoxy hardener
Paper or tinfoil
Toothpick
Finely crushed stone
Hand sander with 220- and 400-grit sandpaper
Felt buffer
Make a pile of the crushed stone you want to use for your inlay, using a piece of paper. The more stone you have, the denser the look of your inlay.
Pour two equal-sized amounts of epoxy resin and hardener on the paper. The total volume of the two should be about what you'll need to fill the cavity in your inlay.
Mix the epoxy resin together quickly with a toothpick, then mix in the crushed stone until you get the density of stone you want for the inlay.
Scoop up the epoxy-stone mix from the paper with toothpicks and work it into the inlay. Be sure to fill the entire bottom of the inlaid area. You should add enough of the mix so it mounds slightly over the top of the inlay cavity and extends slightly over the cavity's edge. Wipe away any excess immediately.
Allow the epoxy to completely harden according to the manufacturer's directions.
Sand the hardened epoxy until it is flush with the surface of the inlaid piece, using a hand sander and 220-grit sandpaper.
Switch to 400-grit sandpaper and sand the epoxy smooth.
Buff the epoxy to a high luster using a felt buffing wheel.