Things You'll Need
Wet/dry polishing paper in graduated grits from 600 to 1,500

Water

Bucket or other container for water

Buffing stick

Polishing rouge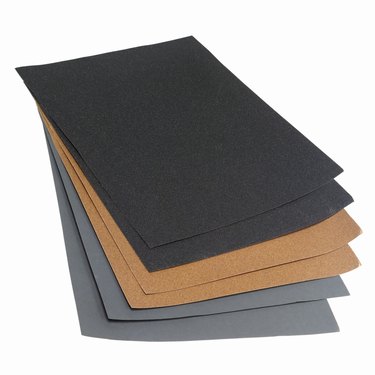 Epoxy resin is used in crafts and jewelry-making to encase and cover images and other objects. Polishing the clear resin once it has dried gives the project a durable, shiny, lustrous cover. The resin and the materials needed to polish it can be bought in craft and home-improvement stores.
Step 1
Allow epoxy to dry fully according to manufacturer instructions.
Step 2
Submerge the piece to be polished in water.
Step 3
Polish the submerged piece, beginning with the 600-grit wet/dry polishing paper.
Step 4
Continue polishing, using papers of successively finer grit until you have sanded the piece smooth with the 1,500-grit paper.
Step 5
Remove the piece from the water and dry it.
Step 6
Buff and polish the resin using the hard felt at the end of the buffing stick. Rub the felt back and forth across the epoxy to buff and further smooth its surface.
Step 7
Rub the polishing rouge quickly across the epoxy until its finish is clear.
Tip
Sponge sanding pads or micro-finishing film can be used in place of polishing paper.
Warning
Don't polish the resin using a dry method or you'll end up with scratches.