Things You'll Need
Pry bar

Nails

Hammer

Tin snips

Ladder

Gloves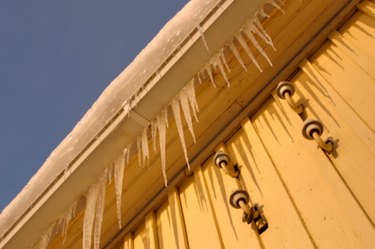 Fascia and soffit go hand in hand on any house. Fascia is the trim that runs across the house between the roof and the siding. Soffit runs underneath the fascia and just above the siding. You don't have to replace these products together but doing them at the same time can make the job a whole lot easier. Fascia and soffit are necessary when you install vinyl siding and they add a lot to any house.
Step 1
Remove the existing fascia by tearing it out with a pry bar, beginning at one end of the house and working in. Remove any nails in the fascia with the hammer claw to loosen the fascia. Pull the nails out of the J-channel and take off the J-channel. This will loosen up the soffit. Remove the remaining nails from the soffit and slide it out of place.
Step 2
Install the new J-channel, running vertically up the side of the house. Insert nails into the slots every 24 inches. Nail directly into the plywood running along the house. This will help hold the soffit in place.
Step 3
Cut the soffit pieces with tin snips to fit the size of the width of the soffit. The soffit will run horizontally, and the widths can vary, but 6 inches is a common size. Slide the first piece of siding into the J-channel and nail the first piece down. Continue with the second piece. Interlock the second piece with the first piece and nail it down in the same manner as the first. Continue this process along the length of the soffit.
Step 4
Install the fascia running horizontally. Attach it with aluminum or stainless steel nails every 24 to 36 inches. Nail only one inch from the top of the fascia. Make sure these nails match the fascia color. If not, paint them to match. Install the second piece of fascia in the exact same manner. Overlap the fascia pieces 1 inch.
Tip
Soffit is sold in lengths meant to be cut and installed in pieces that are the width of the soffit. These pieces will then interlock. They should also be cut 1/2 inch shorter than the overhang width to allow for expansion. Nail the soffit in on the groove so it does not come apart.