Things You'll Need
Coffee filters or paper towels

Washable markers

Spray bottle

Water

Pipe cleaners

Glass jar

Decoupage adhesive

1/4-inch painting sponge

Tissue paper

Paper butterfly applique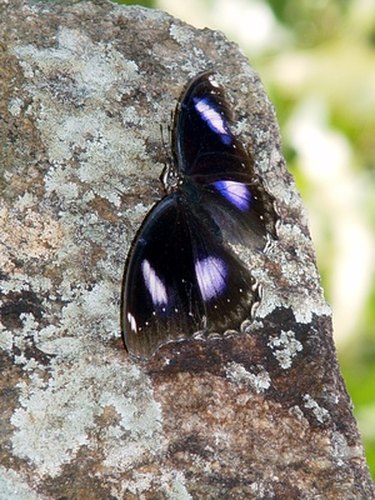 Use butterflies as a theme for craft projects. Both children and adults can do these craft projects. Remember to supervise children while they work on a craft project. Butterflies come in a variety of colors, and butterfly wings have many different designs on them. This allows for customization when creating your own butterfly. Incorporate the creature into many craft projects, including paintings, drawings and coloring. Butterflies work well for both fun projects and pieces that are more decorative.
Tie-Dye Butterfly
Step 1
Color the paper towel or coffee filter with the washable markers. Avoid using brown or black. You do not need to color the entire piece.
Step 2
Fill the spray bottle with water. Spray the paper towel or coffee filter with water. The ink will run, creating a design. Set aside to dry.
Step 3
Bunch the paper towel or coffee filter in the middle. Wrap a pipe cleaner around it; the ends of the pipe cleaner should point between the wings. Twist the pipe cleaner ends together. Leave two inches sticking out to act as antennae.
Butterfly Jar
Step 1
Dip the sponge into the decoupage adhesive. Apply a thin layer of the adhesive to the outside of the jar.
Step 2
Tear the tissue paper into 1-inch-wide pieces of any length.
Step 3
Press the tissue paper onto the decoupage adhesive. Cover the entire jar. Let it dry.
Step 4
Apply decoupage adhesive to the back of the butterfly applique.
Step 5
Press the butterfly applique onto the jar. Let it dry. Apply two more layers of decoupage adhesive, allowing each layer to dry before adding another.