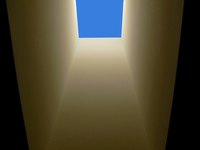 A skylight is a beneficial way to allow light to pass into an entire room without needing a window covering for privacy. Skylights are also beneficial because they do not break up the wall space in a room and will not interfere with furniture placement. Skylights provide more natural light throughout the day as they are placed on the roof where they can be in line with the sun the entire day. Including trim is a beautiful way to decorate a skylight opening in a short amount of time, and only requires some minor math skills and a steady hand.
Things You'll Need
Wall trim, 3 inches by 6 feet
Tape measure
Pencil
Finishing nails
Hammer
Hand saw
Straight edge
Step ladder
Paint
Small paint brush
Measure the length and width of the window opening. Use the step ladder to access the skylight window level easily.
Cut two pieces of trim 6 inches longer than the width of the skylight window.
Cut two pieces of trim to 6 inches longer than the height of the skylight window.
Lay all four sections of wood horizontally in front of you and measure in 3 inches towards the center from each bottom end of each piece.
Draw a line from the bottom 3-inch measurements towards the top end corners. Cut along this line with a hand saw to create a 45-degree angle on each end.
Line the two edges of the wood cut to the window width to the top and bottom of the window. The edge with the two 3-inch marks should be placed closest to the window edges.
Secure the two sections of wood by driving in one finishing nail every 6 inches along the length of the wood.
Repeat steps six and seven with the two sections of wood cut to the length of the skylight window. Be sure to align all four corners with the adjoining cut edge of wood.
Paint the trim to the desired color using paint and a small paint brush. Apply an additional amount of paint to the nail heads to create a seamless appearance.