Things You'll Need
Power supply

Gas supply (if applicable)

Water

Small vacuum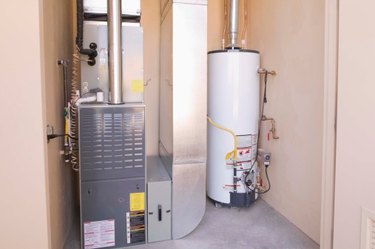 The Armstrong Air Company produces a variety of residential heating and cooling items, including air conditioners, heat pumps and gas, oil and electric furnaces. The Ultra V Tech 91 forced air furnace is available for purchase through licensed contractors or suppliers and offers energy efficient heating with reduced noise and variable stage heating. Troubleshooting the Armstrong furnace may help users experiencing difficulties with the furnace to identify the problem and offer a possible solution.
Step 1
Ensure the furnace is firmly connected to a working power supply. Reset the fuse or circuit breaker if necessary. Turn the furnace "ON" and ensure the gas supply valve is turned on.
Step 2
Turn the thermostat to an increased temperature if the furnace is not producing enough warm air.
Step 3
Check the filter and clean as necessary if the furnace is not working well or functioning as expected. Slide the filter out from the front access panel and use a small vacuum to remove excess dirt and debris. Rinse with water and allow to air dry thoroughly before returning to the unit.
Step 4
Check the set temperature on the thermostat if the furnace is running all the time. Turn the thermostat to a slightly cooler temperature to reduce the amount of running time. Ensure the vents and registers are not blocked by furniture, drapes, toys or other objects.
Step 5
Turn off the furnace and contact an authorized service technician if the above steps do not resolve the problem.