Things You'll Need
Dried plant material

Essential oils

Fixative oils

Dark glass bottle

Glass or ceramic bowl

Eye dropper or pipette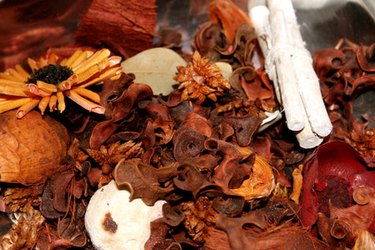 Potpourri is made by adding essential oils to dried, unscented plant materials such as flowers, leaves, petals, stems, pine cones and wood chips. The dried material is available at flower and craft shops, or you can make your own using a dehydrator. If you wish to refresh the fragrance of your homemade potpourri or potpourri given to you as a gift, the process is quick and easy. You can make your own essential oil blend by mixing fragrant oils with select oils that contain absolutes or fixatives to increase the life of your mix. Fixative oils include benzoin, myrrh, cedarwood, frankincense, oakmoss absolute, Peru balsam, sandalwood, patchouli and vetiver.
Step 1
Drop essential oils into a dark-colored glass bottle using an eyedropper or pipette. You may wish to use a pre-determined recipe, or create one of your own. For best results, include an essential oil with fixative properties.
Step 2
Mix the oil blend by rolling the bottle between your hands. This will provide a gentle, warming action to combine and enhance the oils.
Step 3
Place your dried plant material in a glass or ceramic bowl. Glass or ceramic materials are best because they do not absorb oils like a porous container would.
Step 4
Sprinkle five to eight drops of your essential oil blend onto the plant material using your pipette or eyedropper. The amount you use will vary according to the strength of your chosen blend.
Step 5
Keep the remainder of your essential oil blend at room temperature in a cupboard or other dark place so the sun does not adversely affect your formulation. Refresh the potpourri when the fragrance begins to fade.
Tip
Essential oils are available at most craft and flower shops.
Ask for recipes to combine essential oils at the shop where the oils are sold.
Warning
If you are drying your own plant material, carefully follow the directions that come with the dehydrator.
Dry plant material completely to avoid the growth of mold.