Things You'll Need
1 tsp. mild dish soap

Clean, soft cloths

Olive oil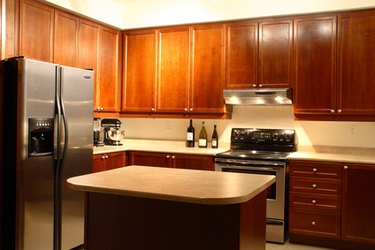 Stainless steel cooker hoods blend well with the other stainless steel appliances in your kitchen. Splashes from food and grease show up easily on stainless steel, as do fingerprints. While stainless steel does not corrode as easily as other metals, certain cleaning products can cause it to pit and develop stained areas. Avoid using harsh or abrasive cleaners to ensure that your stainless steel cooker hood stays clean without damaging its finish.
Step 1
Mix 1 tsp. mild dish soap into a sink that is half full of hot water.
Step 2
Dip a clean, soft cloth into the soapy water and wring the cloth out until it is just damp. Leaving too much water on the cloth will drip onto the stove, and give you more to clean.
Step 3
Wash the cooker hood with the damp cloth. Rub the cloth in the same direction of the stainless steel grain. Press lightly with the cloth to avoid scratching the stainless steel.
Step 4
Rinse the cooker's hood with a clean cloth and fresh water. Again, leave the cloth just damp to avoid dripping water onto your cooker.
Step 5
Wipe the stainless steel dry with another clean cloth, again in the same direction as the stainless steel's grain.
Step 6
Add a very small amount of olive oil to a clean, soft cloth. Rub the olive oil into the cooker hood in the same direction as when you cleaned the hood.
Tip
Polish your stainless steel cooker hood regularly with olive oil or baby oil to help it resist stains. In between cleanings, you can use club soda to remove fingerprints and other dirt.
Warning
Do not use bleach or ammonia on stainless steel. Do not use steel wool or abrasive cleansers as they will scratch your stainless steel.