Things You'll Need
2 cups milk

Shallow bowl

1 1/2 lbs. chicken drumsticks

1/3 cup bread crumbs

1/3 cup Parmesan cheese

2 medium bowls

1 egg

Whisk

Baking dish

Nonstick spray

Olive oil

Dry seasonings of your choice (for example: garlic powder, salt, ground black pepper)

Meat thermometer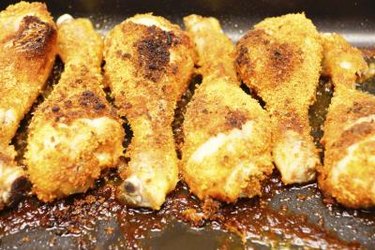 If you need a quick, healthy dinner for your family; you can prepare breaded, baked chicken drumsticks. Baking chicken in the oven is healthier than deep-frying it on the stove top. You can lower the fat content if you remove the skin before coating the drumsticks with breadcrumbs, according to the Vermont Department of Health. After you bake the chicken in the oven you can serve the drumsticks with your favorite side dish to create a simple meal for your family.
Step 1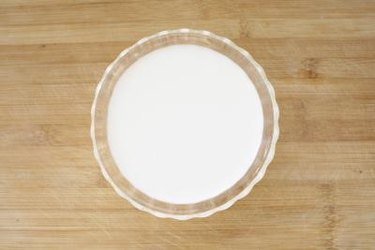 Pour 2 cups of milk into a shallow bowl. Add 1 1/2 lbs. of chicken drumsticks and place them in the refrigerator for 1 hour.
Step 3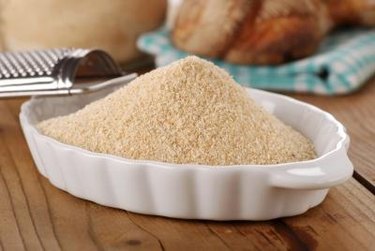 Combine 1/3 cup bread crumbs and 1/3 cup Parmesan cheese in one of the medium sized bowls.
Step 4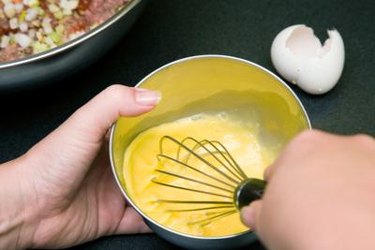 Crack open the egg and place it into the other medium sized bowl. Beat the egg with a whisk. Set the beaten egg off to the side.
Step 5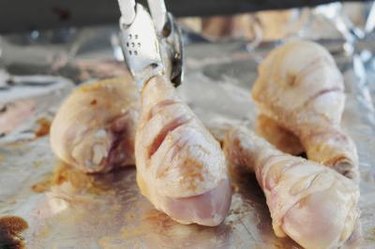 Dip each chicken drumstick in the beaten egg. Roll each egg-coated drumsticks in the bread crumb mixture.
Step 6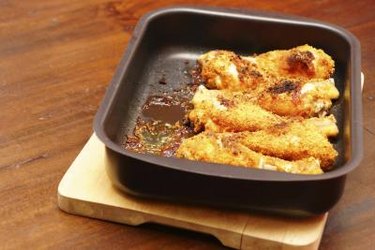 Coat a baking dish with nonstick spray. Add the breaded chicken drumsticks.
Step 7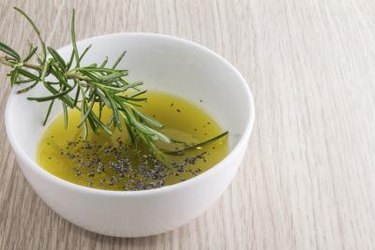 Drizzle olive oil over the top of the drumsticks. Season the drumsticks with your preferred dry seasonings like garlic powder, salt and ground black pepper.
Step 8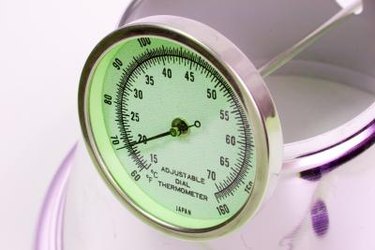 Bake the chicken in the oven for 50 minutes or until the chicken appears golden brown in color and reaches a safe internal temperature. The USDA Food Safety and Inspection Service recommends using a food thermometer to make sure a whole chicken is cooked to a safe internal temperature of 165 F. Place the meat thermometer in a drumstick, without touching the bone, to determine its internal temperature.
Tip
Remove skin from the chicken drumsticks with kitchen shears. Or use a sharp knife to slice the skin off each drumstick.
Warning
Always use microwave-thawed chicken immediately to prevent bacteria from multiplying. Do not allow the cooked chicken to sit out at room temperature for longer than two hours, according to the United States Department of Agriculture Food Safety and Inspection Service. And no longer than one hour if room temperature is above 90 F.