Things You'll Need
Rag

Seam sealer glue

Sponge

Cloth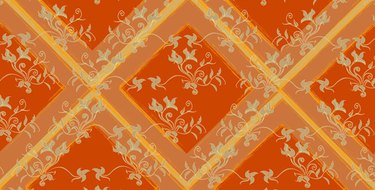 Wallpaper adheres to walls with a paste compound. Corners and edges of the wallpaper may begin to droop if insufficient paste is used. The unstuck edges may cause tears or further loosening if you do not fix them in a timely fashion. Re-gluing the wallpaper is simple once you understand the proper procedure.
Step 1
Pull the wallpaper edges gently away from the wall, and wipe dried paste from the wall and the wallpaper with a rag.
Step 2
Apply the seam sealer glue to the back edge of the wallpaper with an artist's paint brush. Put the sealer on generously, as you can clean any seepage from the wallpaper.
Step 3
Dampen a sponge and squeeze out excess liquid. Wipe the sponge over the front of the wallpaper and press it against the wall. As excess glue seeps out of the edges of the wallpaper, clean it off with the damp sponge. Rinse the sponge, wring it out and wipe over the wallpaper again, removing all excess glue.
Step 4
Dry the wallpaper by wiping gently with a clean cloth. Repeat the process on any other loose edges of the wallpaper.