Things You'll Need
Small knife or screwdriver

Large screwdriver or Allen wrench

Needle-nose pliers

Moentrol faucet valve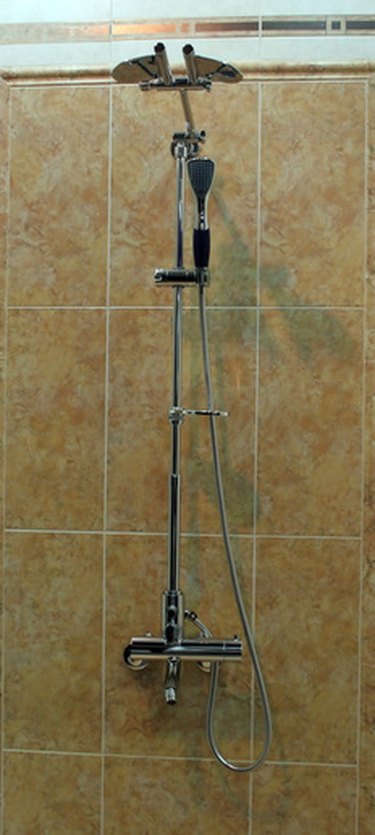 A Moentrol single-handle shower faucet is a part of the Moen line. The single-handle design allows for easy control of water temperature and pressure. This faucet is not immune from leaks, however. When a leak occurs, replace the cartridge valve. This is the part that regulates the flow of hot and cold water through your shower head. The fix is easy, as long as you know what you are getting into.
Step 1
Shut the water valve on the incoming water pipe.
Step 2
Pry off the cap on the handle of the faucet with a knife or small screwdriver. Unscrew the small screw underneath the cap with a screwdriver and pull the handle off the fixture. Remove the trim piece around the fixture pipe.
Step 3
Slide the retainer clip off of the front of cartridge with needle-nose pliers. Slide the handle back over the cartridge arm and pull it forward. Pull the cartridge and handle out of the fixture. The cartridge will slide out now that the retaining clip is removed.
Step 4
Insert a new, matching Moentrol shower faucet cartridge into the faucet head fixture. Replace the trim piece around the faucet and tighten the screws with a screwdriver if required.
Step 5
Turn the faucet handle so the hot and cold markings are on the left and right respectively. Slide it onto the head of the cartridge. Tighten the handle screw to secure the handle in place. Use either the screwdriver or Allen wrench to tighten the screw.
Tip
Use a cartridge remover if your faucet cartridge is stuck inside the pipe.
Match the new cartridge valve to your Moen faucet before installation.