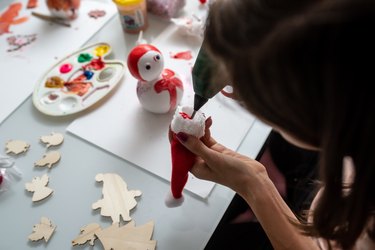 Styrofoam balls are a handy and versatile craft item for making your own homemade Christmas ornaments. They're inexpensive, lightweight and easy to decorate with paint, glitter, glue and all kinds of decorative adornments. There's no end to the creative options for homemade Christmas ornaments from Styrofoam balls, including many that are easy enough for kids and crafting novices to make with beautiful results.
Tip
Styrofoam is easily damaged by high heat and certain chemicals. Before using spray paint on Styrofoam balls, check the label to see if it's suitable for craft foam, or test it on a spare piece. Otherwise, use acrylic paint with a brush. High-temperature hot glue damages craft foam too, so opt for low-temperature hot glue, white glue or any other glue with packaging that states it's suitable for use on foam.
Adding a Hanger to Styrofoam Ball Christmas Ornaments
There are many ways to add a hanging hook to a Styrofoam ball so that you can hang it from a tree or thread it onto a wreath or garland. A good option is to use clear thread with a needle, knot the thread around a small bead, thread it through the center of the Styrofoam ball and pull it through the other side.
Knot the thread around a second bead at the top, then form a loop in the end of the thread or tie it onto a wire or plastic ornament hanger. You can do something similar with craft wire. Another way to add a hanger is to glue a loop of ribbon or string to the tops of Styrofoam ball Christmas ornaments.
Simple Painted Styrofoam Ball Ornaments
Painting a Styrofoam ball is probably the simplest way to turn it into an ornament, but it can still have very effective results. You could dip the foam ball into dishes of different paint colors for a color-dipped effect, letting each color dry before moving on to the next. Consider using small stencils with holiday shapes such as stars and Christmas trees, or painting on a face design to turn the ball into Santa or Rudolph.
Paint the ball red all over and glue on some holly leaves cut from green paper, or paint it red and add a wide black belt and buckle for Santa's tummy. Splattering silver, yellow or white paint over a dark blue surface creates a pretty starry night, or you can use different jewel tones for a galaxy effect.
Trim-Wrapped Styrofoam Ball Ornaments
Check out the trims section of a craft or fabric store for festive trims you can wrap and glue around Styrofoam balls. Look for trims such as thin tinsel, rickrack, sequin or pom pom trims. You could also cut or rip strips of Christmas fabric, use ribbons or rustic jute string, or wrap a Styrofoam ball with yarn to make it resemble a yarn ball. Craft a pair of miniature knitting needles or a crochet hook from matchsticks to glue onto a yarn ball ornament as a final touch.
Fabric-Wrapped Styrofoam Ball Ornaments
Make a very pretty, very easy Styrofoam ball Christmas ornament by placing the ball in the center of a square of fabric, gathering the fabric around the ball, and securing it at the top with a rubber band or piece of string. Make the gathered part look more decorative by tying a ribbon bow around it, or attaching items such as faux holly springs, miniature bells or tinsel.
The choice of fabric can make this type of ornament match a certain theme, such as green or red plaid to fit country décor, white lace for a winter-wonderland theme, or jewel-toned silky fabric for a luxe look.
Snowman Styrofoam Ball Ornaments
Find Styrofoam balls in two or three different sizes and attach them together as a snowman's head and body. Insert cocktail sticks into the balls to join them together, and use a liberal amount of glue as well. Draw on the coal eyes and mouth, and an orange triangle for the carrot nose. Stick some small twigs into the sides of the body for arms, and tie a ribbon or fabric scrap around the neck as a scarf.
Decoupage Styrofoam Ball Ornaments
Tear or cut small scraps of Christmas wrapping paper or other decorative paper to glue onto Styrofoam balls. Use watered-down white glue to stick the scraps all over the balls, overlapping the pieces for a scrappy look. Let the glue dry thoroughly. These ornaments are a great way to use up scraps of leftover wrapping paper.
Use straight pins to attach sequins, small buttons or beads all over the surfaces of Styrofoam balls to make beautiful ornaments. Find straight pins with a larger ball-type head in metallic or colorful shades, and make sure the heads are large enough to not pass through the holes of the sequins, beads or buttons. Simply insert the pins through individual beads, buttons or sequins and press them into the center of the foam ball. Do this all over the ball until its surface is entirely covered.