Things You'll Need
Screwdriver

Gloves

Garbage bag

Bucket

Water

Sump pump

Extension cord (optional)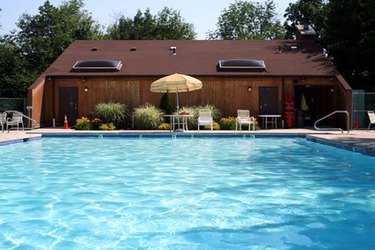 Swimming pools provide outdoor enjoyment as well as exercise during the warm spring and summer months. However, to keep your swimming pool functioning properly, it is important that you perform regular cleaning and maintenance. An important part of pool maintenance involves cleaning out the deck drain. Because the deck drain is basically a runoff for excess water, it frequently becomes clogged with sand, dirt and leaves. Cleaning the drain involves the removal of these items, as well as the water, in order to allow for proper drainage.
Step 1
Find the deck drain, which is a plastic grate located on top of the deck surrounding your pool. Grasp the grate cover with your fingers and pull it up to remove it. Some drain covers have screws, which must be removed with a screwdriver before you can lift them up.
Step 2
Put on rubber gloves and insert your hand into the deck drain. Scoop out any leaves, dirt, pine straw and other debris that is located inside the drain. Make sure that you reach into the bottom of the drain to collect any debris that may be clogging it. Place the debris in a garbage bag for disposal.
Step 3
Place a sump pump in a 5-gallon bucket and put the bucket in a spot that is lower than the pool drain. If needed, dig a hole and place the bucket in the hole so that it is lower than the deck drain. Fill the bucket with water to submerge the pump.
Step 4
Insert the intake tube of the sump pump in the deck drain and place the output tube of the pump in the location where you want to drain the water.
Step 5
Plug the sump pump cord in an electrical outlet, using an extension cord if needed. Turn the pump on and wait until you no longer see any water in the deck drain. Turn the pump off, unplug it and remove it from the bucket.
Step 6
Place the cover back on top of the deck drain by pushing it into place and reinserting the screws, if applicable.