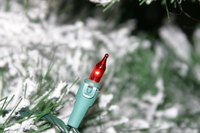 Many Christmas-light manufacturers make lights meant to last only a few weeks, which necessitates consumers having to buy new lights every year. Some consumers, however, want to save the lights and reuse them. This often calls for repairing and replacing bulbs so that the entire strand of lights works. To have plenty of replacement bulbs on hand, purchase an extra strand of lights. This is especially important, as manufacturers tend to change mini-bulb sizes or configurations annually.
Things You'll Need
Locate broken bulbs. They will be visibly broken and/or will not light up when the strand of lights is plugged in.
Mark the bad bulbs with a piece of masking tape.
Unplug the mini-Christmas lights.
Remove the bad bulbs using the end of a screwdriver. Press the screwdriver in between the mini-bulb and the socket to pry the bulb out.
Push the replacement bulb into the socket.