Air can leak in and out of your house around your exterior door, increasing your heating and cooling bills and wasting energy. You can eliminate air leaks by installing weatherstripping around the edges of the door and filling the gap in the wall behind the door frame. This insulates the exterior door against the elements, helping your wallet and the environment.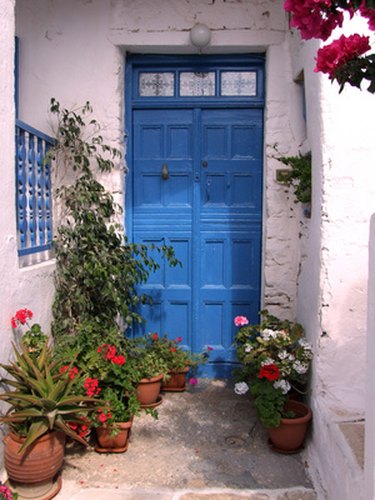 Things You'll Need
Brad Nails

Hacksaw

Snap-Blade Cutter

Expanding Spray-Foam Sealant

Flat Pry Bar

Weatherstripping

Measuring Tape

Hammer
Weatherstripping
Step 1
Cut a piece of weatherstripping to fit behind the latch, against the door stop. Close the door while holding the weatherstripping in place to see if it interferes with the latch. If it does, cut it with a snap-blade cutter or bend it away from the latch.
Step 2
Drive brad nails through the weatherstripping into the door frame to fasten it.
Step 3
Cut lengths of weatherstripping to fit along the exterior door's latch side, hinge side and the top. Fit the latch side weatherstripping along the door stop and nail in place. Repeat with the weatherstripping for the top of the door and then the hinge side of the door.
Foam Sealant
Step 1
Slip a flat pry bar under the wood trim surrounding the door, from inside the house. Work each piece of trim carefully away from the wall with a pry bar.
Step 2
Spray expanding foam sealant into the void between the door frame and the house frame. Let the sealant dry according to the manufacturer's directions.
Step 3
Trim the excess foam with a snap-blade cutter or a knife so that the dried foam is flush with the wall.
Step 4
Replace the trim over the dried foam sealant, pressing the original nails back into the original nail holes.