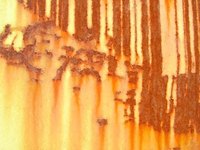 Rust is a natural process that occurs when metal is exposed to air and moisture. If you attempt to paint over rust, you will inevitably see a recurrence unless you pre-treat the metal with primer. Unfortunately, most primers are not formulated to seal rust. You must select one of two special types of primers, formulated with the ability to permanently prevent rust from bleeding through. These primers are not compatible with every type of paint. You should know which paint to apply over the primer, or you will end up with significant peeling.
Things You'll Need
Work gloves
Wire brush
80-grit sandpaper
Iron oxide or zinc chromate primer
2- to 4-inch oil paintbrush
Mineral spirits
Oil-based enamel
Remove rust from the metallic surface, using a wire brush and 80-grit sandpaper.
Coat the rusted surface with an iron oxide or zinc chromate primer, using a paintbrush specifically engineered for use with oil-based coatings. Wait two hours for the primer to dry.
Clean the paintbrush with mineral spirits. Do not use water, as this will render the brush useless.
Apply a topcoat of oil-based enamel, using the clean paintbrush. Wait two hours. Apply a second coat if you can see the iron oxide or zinc chromate primer bleeding through.