Things You'll Need
Tension clips

Quilting patterns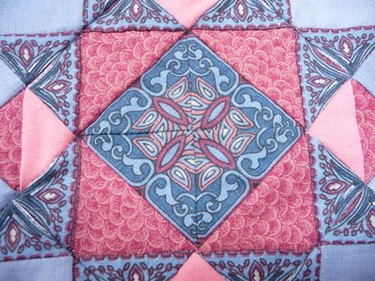 Quilters use an Inspira quilt frame to load a quilt top, batting and backing onto a quilting machine. You can adjust these frames to the size of the quilting piece, up to 106 inches in length, and for stand-up or sit-down quilting. The Inspira quilt frame is lightweight and moderately easy to set up when you know how to do it.
Step 1
Place the quilt frame onto the quilting machine carriage.
Step 2
Roll the quilt top, batting and backing onto the roller bars of the quilt frame.
Step 3
Tighten the quilt on the frame by adjusting the "Soft Touch" knobs, turning them to the right for more tension and to the left for less tension.
Step 4
Attach the Velcro tension clips to the quilt at both ends of the frame.
Step 5
Place your quilt pattern on the Loading Shelf. Turn the "Start" knob to "On," and trace a few inches of your quilt pattern to test the tension of the quilt on the Inspira frame.