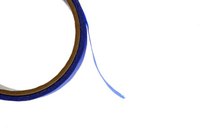 If you would like to paint a stainless steel exhaust, there are some critical points you should understand before you begin the application process. Stainless steel is a nonporous, durable surface, ill-suited for paint adhesion. If you apply paint directly over under-prepared stainless steel, you will end up with rapid paint failure. You must condition the exhaust with a special aesthetic primer, capable of etching steel surfaces. You must also select a paint that will remain durable over a long period of time.
Things You'll Need
Trisodium phosphate cleanser
Steel wool
Water hose
Masking paper
Plastic coverings
Professional painter's tape
Heavy-duty fabric drop cloths
Galvanized metal etching spray primer
Oil-based spray enamel
Oil-based high temperature spray enamel
Ensure that the exhaust is cool.
Clean the stainless steel exhaust with a trisodium phosphate cleanser, using steel wool. Rinse the exhaust, using a water hose. Wait 2 to 4 hours for the exhaust to dry.
Cover areas you do not want painted with masking paper, plastic coverings and painter's tape. Protect the surface beneath the exhaust with heavy-duty drop cloths.
Coat the clean stainless steel exhaust with galvanized metal etching spray primer. Hold the can of etching primer 8 inches from the exhaust as you apply. Wait six hours for the primed exhaust to dry.
Coat the primed exhaust with oil-based spray enamel. Hold the can of enamel 8 inches from the exhaust as you apply. Wait six hours for the enamel to dry.