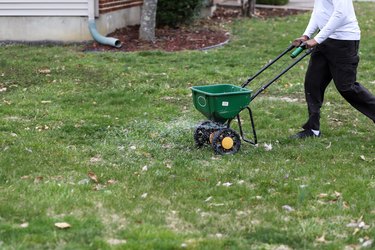 Scotts Step 2 fertilizer is a part of the four-step lawn care program offered by Scotts. This formula not only feeds your lawn with a 28-0-3 fertilizer but also helps to control weeds, including broadleaf weeds and dandelions, before they can take over. Be sure to read the product label to make sure this fertilizer is suitable for your lawn and follow all application instructions.
Scotts Step 2: When to Apply
Each step in the four-step annual lawn care program from Scotts is applied at different times of the year to offer the best results. Apply Step 1 to your lawn in the early spring to feed the emerging grass and to prevent crabgrass.
Step 2 fertilizer should be applied once in late spring during the month of April, May or June to control weeds and offer additional nutrients to your lawn. Wait at least 30 days after applying Step 1 before using Step 2.
Step 3 is a summer fertilizer that includes 2 percent iron to bring out the lush green color. Finally, apply Step 4 fertilizer in the fall.
For best results, your grass should be wet before applying fertilizer. Water your lawn prior to applying fertilizer or spread the fertilizer in the morning before the dew dries. The ideal temperature range is 60 to 90 degrees Fahrenheit.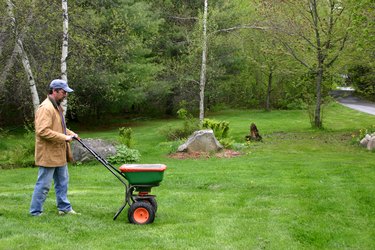 Pour the Scotts Step 2 fertilizer into the spreader. For every 1,000 square feet of lawn, you will need 2.9 pounds of fertilizer. If you are using a Scotts broadcast spreader, set the spreader to 3 1/2. For a drop spreader, set the spreader to 5 3/4.
Then, walk back and forth across your lawn, ensuring that each pass is close enough to ensure that there are no gaps in the fertilizer application. After you finish applying the fertilizer, wait at least 24 hours before watering your lawn again or mowing. If water washes away the Step 2 granules sooner, then the product may not effectively control growing weeds.
Warnings and Considerations
Scotts Step 2 fertilizer is not suitable for all types of grass, so be sure to check the label to ensure it is safe for your lawn. For example, this product should not be used if you are growing bentgrass (Agrostis spp.), carpetgrass (Axonopus affinis), or St. Augustine grass (Stenotaphrum secundatum). The fertilizer may cause temporary discoloration on some types of grass, including Bermudagrass (Cynodon dactylon) and zoysiagrass (Zoysia japonica).
You should also take care not to allow the fertilizer to drift onto your other plants, including flowers and vegetables. It is toxic to fish and other aquatic life, so take steps to prevent runoff into any waterways. Avoid spreading fertilizer on windy days or if rain is expected.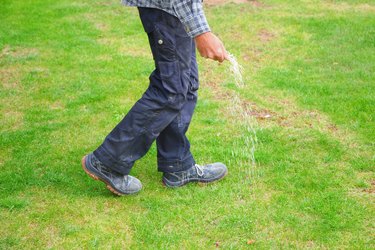 Wear protective clothing and eyewear when working with this fertilizer. Some people may experience an allergic reaction from skin contact with the fertilizer. If it gets into your eyes, rinse them with clean water for at least 15 minutes. Contact your doctor or call poison control for further treatment and guidance.