Nothing ruins a nice, pretty lawn like a patch of weeds. Luckily, there's plenty you can do to save your outdoor space. It just takes the right materials and a bit of know-how, which is where The Roundup® Brand Products come in. Learn exactly how to weed your lawn in the video below (with just two products and not much elbow grease), then head to Weeding Wisely to get more tips and resources, specifically for your lawn.
Things You'll Need
Attach the water hose and switch it to on.
Step 2: Broadcast spray your entire lawn.
Spray an even layer across your entire lawn. Don't worry about harming your beautiful lawn — the formula specifically kills weeds, but not your lawn. This formula kills over 250 types of weeds*, like crabgrass, dandelion, clover and yellow nutsedge.
​*See inside booklet for weed list​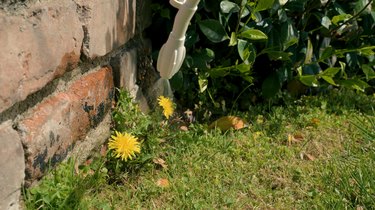 When you're ready to work, twist nob to on, flip the wand open, and extend wand fully.
Step 4: Spot treat hard-to-reach areas
Twist the nozzle to desired spray pattern, then hold the trigger while you target weeds that are in hard-to-reach areas.
​​Want more info on which Roundup​​​®​​​ Brand Products are best for your lawn or garden project? ​​​Click here ​​for product suggestions and tips on how to use them.​​​
​​ALWAYS READ AND FOLLOW PESTICIDE LABEL DIRECTIONS. ​Not all products are registered in all states and may be subject to use restrictions. Roundup and Design® and Roundup® are registered trademarks of Bayer Group. 2021 Bayer Group. All rights reserved.​