Things You'll Need
Plates

Platters

Spoons, forks and knives

Jugs or pitchers

Glasses

Napkins

Flowers

Candles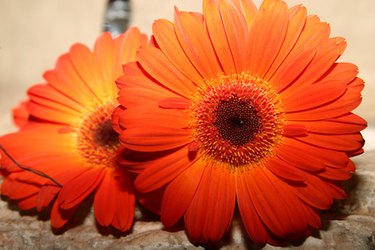 Hosting a Spanish-themed party provides an exciting atmosphere that is colorful, festive and vibrant. Spanish-themed parties typically display bright and earthy colors, along with rustic accents. As with most parties, the table is the centerpiece of the party and provides a meeting place for guests to mingle and enjoy their meals. The way you set the table typically sets the tone for the rest of the party environment and is something that should be given a bit of thought. Fortunately, there are a few tips you can follow when setting your Spanish table.
Step 1
Place colorful plates and platters on the table. Provide one dinner-sized plate in front of each chair and place a smaller plate on top if you are serving bread or salad. Choose bright, vibrant colors or patterns that match well with each other. If serving food on platters, position them so that they are in the center of the table and easily accessible. Large clay platters work well for Spanish-themed parties.
Step 2
Give your guests spoons, knives and forks to eat their meal. Forgo the stuffy utensil place settings and arrange them in a large clay or glass pitcher so your guests can reach in and grab their own utensils. Place the vessel in the middle of the table or close by if there isn't enough room.
Step 3
Place colorful glasses to the side of each plate. Heavy-looking stemware and cups fit in well with the Spanish theme and add a stylish element to the table.
Step 4
Lay bright cloth napkins on top of each plate. Fold the napkin in thirds and place it vertically across the plate. Doing so creates gives a casual feel to the place setting and invites guests to sop up their messes with the napkins.
Step 5
Decorate the table with Gerbera daises and other bright flowers. Place the flowers in jugs and pitchers of various heights and shapes. Adding a bit of variety to the flower vessels gives the table an unfussy, yet stylish feel. You can also add nonscented candles to the table for a rustic, cozy element.
Tip
Play Spanish music during your meal and offer your guests authentic food and drinks, such as tapas and sangria, to add to the Spanish feel of the party.